After a strong start for vans in November, notes DAT's Ken Harper, "van freight volumes were down last week …, although the load-to-truck ratios strongly favor carriers in the Western states," indicating good negotiation leverage for owner-operators in many markets.
Reefer freight load-to-truck ratios, too, are generally "very strong west of the Mississippi," however, Harper notes, "with the exceptions of Texas and New Mexico."
Rates for all three major segments — dry van, flatbed and reefer — followed volume down slightly on the spot market overall, DAT reports, considered nationally.
Continued spreading out of the fall freight season could be in the offing again this year as "announcements from Amazon, Target and other retailers about prolonged Black Friday sales" have come in recent days, Harper adds. Likewise, "the very decided trend toward e-commerce for holiday shoppers" holds the chance of extending, or at least re-ordering "the historic notions of the 'second freight season' ending by Thanksgiving."
Harper references outside sources saying e-commerce was up 15 percent for consumer items compared to a year ago, and that it would outstrip sales at brick-and-mortar stores considerably.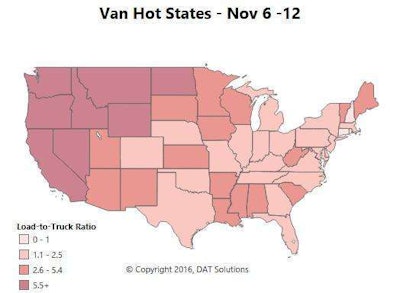 Van overview: As noted, volumes last week lost some of the momentum they gained early in November. The election may have had an effect, as some people took time off from work to vote or stayed up too late watching the election returns. If so, markets could snap back this week.
Hot markets: The strongest markets are still out West. Volumes were up 10 percent in Stockton, Calif., while Los Angeles and Ontario were the top two markets for van load posts on DAT load boards.
Stockton to Portland, Ore., got a shot in the arm last week, rising to an average $2.11 per mile. The return trip, however, averaged a buck fifty, making it ripe for a two-leg trip. Portland to Medford in Southern Oregon won't take you far from the I-5 corridor, and while those loads aren't so plentiful now, they paid an average $2.39 per mile last week. Medford back to Stockton, meanwhile, averaged $2.02. (Remember: Oregon is a top state for Christmas trees, and tree season starts next week, so there are going to be more loads heading from Oregon to California.)

Rising lanes: Philadelphia saw the biggest jump in average outbound rates for vans, thanks mostly to a couple of lanes to destinations in the Northeast. The average rate on the lane from Philadelphia to Boston rose 10 cents to $3.20 per mile, and if you can find a load back from Boston to Allentown, Pa., the average rate was up $1.73 per mile last week. Philly to Buffalo was also up 10 cents to an average of $2.11 mile. It's still tough to get a good rate from Philly if you're heading to the Midwest or to the Southeast, however. The lane from Memphis to Charlotte got a 10-cent boost to $1.86 per mile, and rates rose 16 cents to an average $2.06 per mile from Charlotte to Buffalo.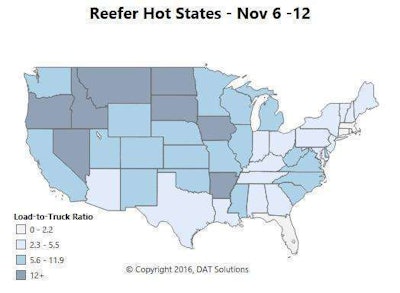 Reefer overview: After an unusual spike in the first week of the month, several reefer markets had large drop-offs in volumes last week. By Friday, however, load volume was picking up again in California and Idaho, so rates may be on the rise again this week.
Hot markets: Demand is high in Southern Idaho, with potatoes and onions rolling out ahead of Thanksgiving. Twin Falls is the No. 1 market for reefer posts right now, and the load-to-truck ratio has surged up to a whopping 33.4 loads per truck. For comparison, the national average is 6.4 reefer loads per truck.
Rising lanes: Dairy products are pouring out of Wisconsin, and rates are rising on the lane from Green Bay to Des Moines – the average rate hit $2.19 per mile last week. Rates dropped on a handful of lanes out of Grand Rapids, Mich., but the lane from Grand Rapids to Madison, Wis., bounced back up to $2.37 per mile. Peak apple season is done in Michigan, but apples remain plentiful. They'll continue moving from storage locations throughout the winter. Out in California, reefer rates on the lane from Sacramento to Denver rose 27 cents to an average of $2.28 per mile.
Falling lanes: Rates dropped 34 cents per mile on the lane from Twin Falls to Phoenix last week, after a surge in the previous week. The $2.32 per mile average rate is still quite a bit higher than the October average, though. More inbound freight moved to Florida, and all the empty trucks competed for outbound loads, driving rates lower. The lane from Miami to Elizabeth, in Northern New Jersey, lost 24 cents on average as a result, to a paltry $1.20 per mile.