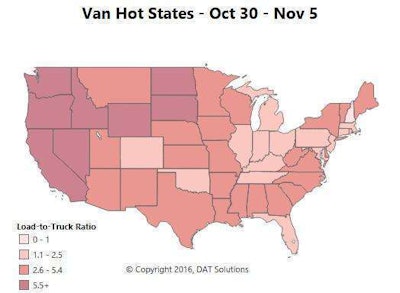 Van overview: There were more van loads in October than there were a year ago, and rates responded last week to the increase in demand. Most rate averages that changed moved in small fashion on individual lanes, but the overall effect boosted the average linehaul rate to just 1¢ below the average from this time last year.
Top markets: Six van markets are much stronger than they were a month ago: Los Angeles, Dallas, Denver, Seattle, Memphis, and Stockton, Calif. Four of those six markets are in the West, and the biggest rate increases were on lanes that connect the Western region to much of the East Coast. A handful of "backhaul" lanes improved last week, and even on the van lanes where prices dropped, they didn't fall very much.
Lane ripe for a split: Rates on the lane from Memphis to Dallas have been rising on average, up to $2.15 per mile last week. If you convert the return trip into two legs via Fayetteville, Ark. you'll avoid the $1.21 average return rate and wind up with an average $1.94 per loaded mile instead.

All in all, you add less than 200 loaded miles but you'll make another $715 dollars, bringing your total from $1,500 to more than $2,200.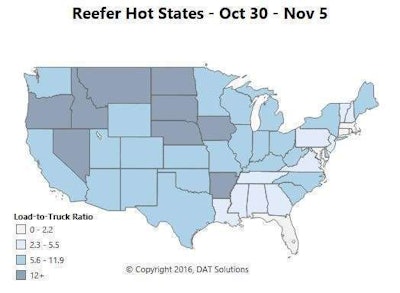 Reefer overview: Last week looked more like a June produce peak than the first week in November. The national average rate per mile was way up, and volumes surged 7 percent nationwide.
Hot markets: Volume leaders included three big California markets: Fresno, Sacramento and Los Angeles. Florida is also going strong, with a healthy crop of vegetables moving out of Miami and Lakeland in early November. Potato shipments out of the Twin Falls, Idaho, market are also on an upswing, ahead of Thanksgiving.
Rising: Reefer rates on the lane from Twin Falls to Phoenix surged 45 cents last week to $2.66 per mile, and Fresno to Denver added 27 cents to an average of $2.27 per mile. Late fall crops are rolling out of Wisconsin, possibly accompanied by dairy products for your Thanksgiving table. Rates from Green Bay to Minneapolis rose 36 cents to $2.24 per mile
Falling: Reefer load volume dropped last week out of Denver, Dallas, and McAllen, Texas.