As the video above makes clear, cycle through the dry van demand picture on DAT Loads Boards beginning in late July and through the most recent Thanksgiving week, and the Hot States map has been fairly red through most of this "Fall freight season" — no political commentary there, either. Generally, the darker the shaded states, the better the spot market situation for carriers looking for load. This week showed good demand indicators broadly, too — instead of falling off in the week after Thanksgiving, demand increased and rates rebounded, as shippers hustled to load end-of-month freight onto trucks by Wednesday and the end of the month.
Retail sales, meanwhile, set new records for the Thanksgiving weekend, both in stores and online, adding up to more good news for truckers. December could be a better-than-average month on the spot market.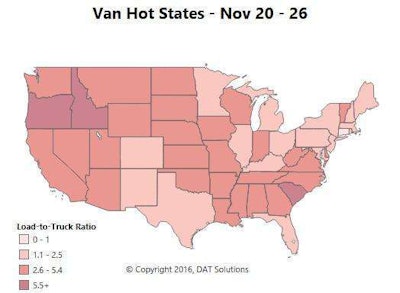 Hot markets: The big winners last week were Atlanta, Charlotte, Chicago and Columbus, all big regional hubs for van freight. Rates also rose sharply on the West Coast, specifically in two markets that include sea ports: Stockton, Calif., and Seattle, Wash.
Rising lanes: In the short Thanksgiving holiday week, rates spiked way up on the lane from Stockton to Salt Lake City, up 24 cents to $2.46 per mile on average, a record for the year. That rate held steady through the end of the month.
Other lanes with average price increases last week above 20 cents per mile included Charlotte to Buffalo, Atlanta to Philadelphia, and Chicago to Columbus. Rate increases on those lanes did not carry over into the last week of the month, but volume remains high. It should at least be easier than usual to find loads.
Falling lanes: Most markets and lanes did well last week. A few had price corrections from a spike in the previous week, including two lanes originating in Denver: one heading to Phoenix (down 8 cents) and the other to Oklahoma City (down 17 cents).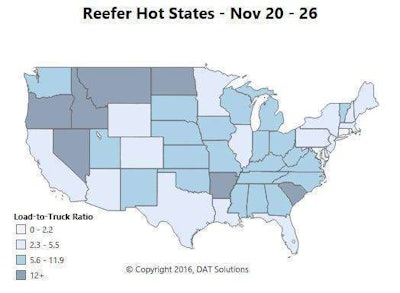 Reefer overview: Reefer volume has been steady throughout the fall, and rates rose throughout the month of November. There was an extra boost at mid-month, heading into Thanksgiving. Any post-holiday slowdown in reefer traffic will likely be temporary, as Christmas is just around the corner.
Hot markets: There was a surprising surge in volume out of Miami last week, where rates had been rising steadily all month. Texas was home to two Hot Markets last week, as pre-Thanksgiving freight out of Dallas added to a steady stream of loads from McAllen, including Texas grapefruit and oranges. Another market near the Mexican border, Nogales, Ariz., got a boost during the month of November, but rates adjusted down during the Thanksgiving week.
Rising lanes: Lane rates from Miami to Elizabeth, N.J., rose 39 cents per mile last week on average, to $1.68, but then prices eased back down 23 cents to $1.45 per mile after Thanksgiving. McAllen to Dallas also got a boost, up 22 cents to $2.29 per mile. That rate continued to rise after the holiday, hitting a $2.35 average at the end of the month, and it could go even higher in December. The lane from Chicago to Philadelphia added 26 cents in the week before Thanksgiving, and then rose another 22 cents to $3.08 per mile at the end of the month. The rate on the return trip from Philly to Chicago even added a few cents, to $1.36, for an average to $2.22 per loaded mile on the roundtrip.
Falling lanes: There was a lull in volume out of Twin Falls, Idaho, and rates tumbled 22 cents last week on the lane from Twin Falls to Phoenix. That average rate is now $2.29 per mile, but it might rise again before Christmas. Denver to Houston lost 15 cents , to $1.59 per mile, and the lane from Philadelphia to Boston dropped 15 cents, to $3.31 per mile. That sounds like a lot, but the route includes traffic, tolls and possibly a long deadhead stretch on the return trip.