December started with the highest week of volumes seen on the spot market in the past two years. Of course, work resumed for the wider American public after the Thanksgiving holiday, but the real driver was the economy — especially e-commerce. According to Adobe's digital index, shoppers have spent $1 billion online on all but one of the 35 days between Nov. 1 and Dec. 5, and Cyber Monday was roughly double that — $1.94B. Obviously, the goods had to get to distribution centers in order to be fulfilled.
Load availability soared in places like Denver and Memphis. Both those markets are distribution hubs for e-commerce, which has stretched the traditional holiday retail freight season well into December. In fact, van rates have gone up in December for the past three years, and this year looks to continue that trend. Winter weather in the Upper Midwest and Northeast is also leading to tighter capacity and higher prices in those regions.
A lot of holiday freight heading into the Northeast ends up in distribution centers in Allentown, Pa., which has led to higher inbound rates there. Van rates on the lane from Columbus to Allentown have averaged $2.96 per mile in the past week, and Buffalo to Allentown is up to $2.98 per mile. Out West, the number of loads tripled on the lane from Denver to Los Angeles. Prices were also up on the lane from Denver to Phoenix.
The flipside of higher outbound rates in Denver is that inbound rates tend to fall. Van loads heading from L.A. to Denver paid 15 cents less last week, at $2.45 per mile. Rates were down in general out of L.A. and Stockton, Calif., which include sea ports. Most holiday freight arriving by sea is already here, so the ports are less active than they were in November.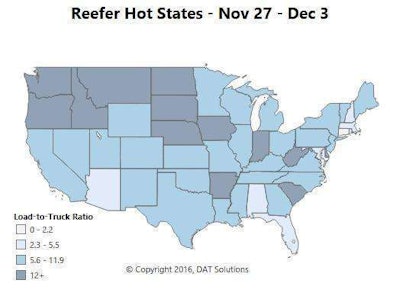 Reefer trends haven't been as dramatic, but the national reefer rate in November did end up 6 cents higher than October's average. Load posts bounced back on DAT Load Boards after Thanksgiving, but rate trends varied a lot from one market to the next.
One thing reefers and vans had in common was that there were a lot more loads available last week in Denver. Other reefer markets with big gains were in metro areas with a lot of refrigerated warehousing, including Chicago, Dallas, and Elizabeth, N.J. Reefer rates bounced back in Southern Idaho, after a down week.
Produce is doing pretty well for the post-Thanksgiving lull, but there were still some pretty big price drops on lanes out of some agricultural markets. Crops out of the Green Bay market are mostly finished, and prices fell hard in some outbound lanes. Out of California, reefer loads paid less in Ontario and Fresno.