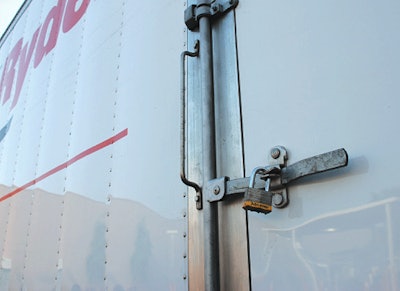 The holiday shipping season is historically one of the most active times of the year for cargo thieves, says cargo theft recording firm FreightWatch International. The group warns shippers, carriers and drivers against leaving cargo unattended for extended periods of time.
With both Christmas Day and New Year's Day occurring on Sunday this year, FWI says many receiving facilities' schedules will be adjusted, leaving more opportunity for freight to be parked for extra time.
To combat cargo theft, FWI recommends truckers and carriers confirming holiday hours with receivers to help prevent any unnecessary layovers with loaded trucks. The group says in-transit and warehouse operations will be heavily targeted around the holidays and suggest using "covert GPS tracking with an active monitoring program" to mitigate threats and assist in the recovery process in the event of a theft.
Notable cargo thefts in recent years during the holiday season include:
Theft of full truckload of aluminum in Tennessee this year
Theft of full truckload of $4 million in footwear in California this year
Facility theft of $300,000 of electronics on New Year's Day in Texas in 2015
Fictitious pickup of $1 million of apparel in New Jersey in 2014
Two fictitious pickups of seafood in California in 2013