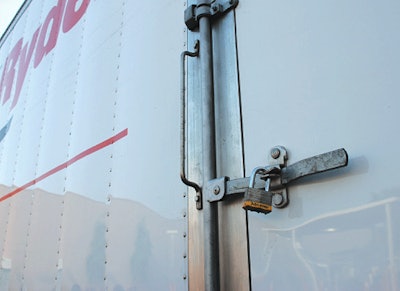 Nearly 150 reports of theft involving trucks and trailers have been recorded in the U.S. and Canada between Dec. 23 and Jan. 2 since 2012, according to cargo theft recording firm CargoNet.
The most common days for cargo theft during the holiday season have been Dec. 29 and Jan. 1, with 11 incidents each on those days, followed by Dec. 24 with 10 incidents. In total during the last four holiday seasons, CargoNet recorded $5.8 million in cargo losses.
Texas led the way with 31 thefts during the four-year period, followed by Georgia with 20 and California with 19. Food and beverage items have been the most-targeted, accounting for 31 cargo thefts worth an average of $62,717. Apparel and accessories were the next most common thefts with 10 worth an average of $457,293.
CargoNet adds that most of the incidents occurred in unsecured locations such as parking lots, truck stops and warehouses. The firm says the best theft deterrents include physical security measures, such as high visibility lighting, secured yards, high-security locks and security staff.
Notable thefts from recent holiday seasons include:
$1 million worth of apparel and accessories from a warehouse in Newark, N.J.
$1 million worth of footwear from a secured yard in Edison, N.J.
$599,600 worth of footwear from a secured yard in Long Beach, Calif.
$250,000 worth of wine from a parking lot in Orlando, Fla.
$205,000 worth of food and beverages from an unsecured yard in Hanover Park, Ill.