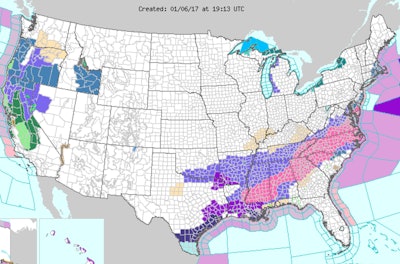 Traffic map from ALDOT says it all: roads are very icy and travel extremely difficult in the Birmingham area. #alwx pic.twitter.com/lyDiahXUzL

— NWS Birmingham (@NWSBirmingham) January 7, 2017
A swath of winter weather across the Southeast has clogged major highways in Alabama and Georgia, both states are reporting this morning. In Alabama, as of 9 a.m. Central time, ice and snow caused I-20/59, I-20 and I-459 to be impassable at points, and tractor-trailers and passenger cars blocked portions of the highway on both sides of Birmingham. In Georgia, Interstates surrounding Atlanta were also clogged due to snow and ice, but conditions are improving quickly, the state's DOT reported.
Governors in Alabama and Georgia issued emergency declarations in advance of the storm, suspending certain hours-of-service regulations for truckers providing aid and relief efforts to the states, including emergency or disaster related materials, supplies, goods and services. Alabama's emergency declaration is set to expire Feb. 5, unless canceled sooner, while Georgia's will expire Jan. 8.
Metro-ATL covered w/ ice! Roads VERY dangerous- don't go out if you don't have to. I-20/eb Downtown and I-75/nb at Mt Zion Blvd. shut down. pic.twitter.com/MoSyJl6Mn1

— Ashley Frasca (@AshleyFrascaWSB) January 7, 2017
The storm also impacted other areas of the southeast.
The Texas Department of Transportation reported snow and ice across I-40 and other state highways in the Texas Panhandle on Friday, as well as a few reports of ice on bridges in the southern part of the state between San Antonio and Houston on and near I-10. Those roads have since been cleared and are passable.
Snow reported in our northern counties, w/ more predicted later today. Our crews are out treating roads. Plz do your part #besafedrivesmart pic.twitter.com/wwbGIYOH5Q

— TxDOT (@TxDOT) January 6, 2017
Most of the state of Arkansas saw a mix of snow and ice accumulation, with more ice along the I-40 corridor near Memphis. The Arkansas State Highway and Transportation Department noted on Twitter at 6:30 a.m. Friday that snow was beginning to stick to roads and highways throughout much of the state. Updated road conditions for Arkansas can be found here.
The winter surge began moving through Mississippi Friday morning, and DOT officials say ice has begun to accumulate on a number of roads in the north and central parts of the state. Updated road conditions for Mississippi can be found here.
Stay safe on #MShwys in counties impacted by #winter #mswx. For a list of affected counties: https://t.co/nSHGyagzuB. Ice on roads in pink. pic.twitter.com/85bxhcs1a0

— MDOT (@MississippiDOT) January 6, 2017
The Tennessee Department of Transportation reported snow and ice mostly in the southwest part of the state, east of Memphis. Patches of ice and snow have been reported along I-40 in Tennessee west of Nashville. Updated road conditions for Tennessee can be found here.