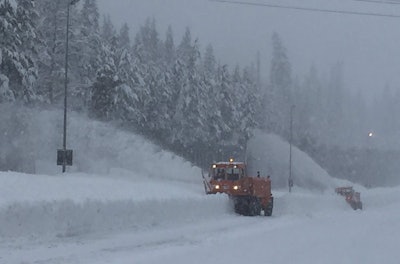 #TrafficAlert: We have reopened I-80 Donnor Pass in both directions. Single file-chain control, 30mph max strictly enforced. pic.twitter.com/xAeXg8KvtY

— Caltrans District 3 (@CaltransDist3) January 11, 2017
The California Department of Transportation (Caltrans) has reopened I-80 between the Nevada state line to Colfax after it was shut down due to a winter storm.
The agency says maximum chains are required for trucks (see chart to the right), and traffic will be allowed through the Donner Pass area single file with a 30 mph speed limit. U.S. Highway 50 is also open with the use of chains required as an alternate route.
I-80 in Nevada east from the California state line is open. Updated road closure information from Caltrans can be found here.
#TrafficAlert #castorm Caltrans snowblowers working hard to clear the 150 lane miles of I-80 while snow continues to fall on Donner Pass. pic.twitter.com/AOuQYSeNbV

— Caltrans District 3 (@CaltransDist3) January 11, 2017
@JLHarr1 80 is still closed. it might open late this afternoon or evening. 50 is open with chain controls.

— Caltrans District 3 (@CaltransDist3) January 11, 2017