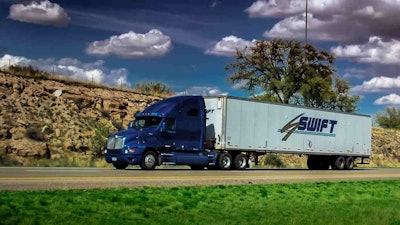 Swift Transportation is appealing a recent federal court's decision that its owner-operator contractor agreements constitute employment, opening the door for the driver plaintiffs to receive back pay and other relief from the company, as sought in their lawsuit.
About 5,000 of Swift's 19,000 drivers are owner-operators, but only five owner-operators are involved in the lawsuit explicitly.
Swift, the country's largest truckload carrier (No. 4 in the CCJ Top 250), filed for appeal Jan. 11, following last week's ruling, which allows the truckers to seek class action certification. In 2014, the Supreme Court denied Swift's request that it review the seven-year-old case. The company did not respond to a request for comment.
The five plaintiffs signed Swift's contractor agreements, which require contract disputes to be resolved through arbitration. However, the FAA exempts employees engaged interstate commerce from being compelled to use arbitration instead of the courts. "Altogether, the terms of the contractor agreements, bolstered by the evidence presented as to how those terms worked in practice, persuade the court to find that plaintiffs had contracts of employment which are exempt from arbitration," Senior U.S. District Judge John W. Sedwick wrote.
The truckers signed the agreements and leases with Interstate Equipment Leasing at the same time. "Under the terms of the IEL leases, the ability of plaintiffs to keep leasing their trucks was explicitly dependent on them maintaining their contractor agreements with Swift, when read in conjunction with the at-will termination provision in the contractor agreements, Swift effectively had full control of the terms of the relationship," Sedwick stated, meaning the drivers were more employee than contractor.