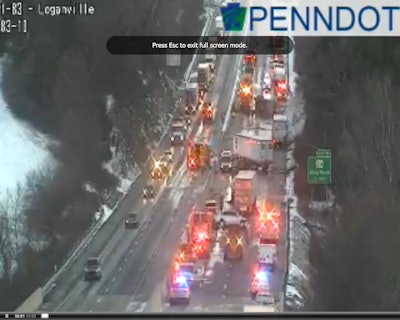 Update, 1/31: All lanes on I-83 affected by the crash have been reopened. Original story below.
—
At least 50 vehicles, including at least 10 tractor-trailers, were involved in an accident on Interstate 83 in Pennsylvania on Monday afternoon, closing the interstate in both directions, according to a report from PennLive.
The accident occurred near milemarker 10, near the Maryland state line. As of 4:30 p.m. Central time Monday, only the right lane on the Northbound side had been reopened. The Southbound lanes are expected to remain closed through much of the evening. Winter weather appears to be the cause of the crash.
According to PennLive, police have confirmed one fatality from the accident, along with a number of non-life threatening injuries.
We have 5 units on the scene of the I83 multi vehicle crash. pic.twitter.com/rDcFQPjAtn

— White Rose Ambulance (@wraems) January 30, 2017
Truck by truck and car by car they are untangling the mess at mile 9.5 SB I-83. Still closed SB with one lane open NB. PENNDOT CAM pic.twitter.com/FMRB6nxKiM

— York County REACT (@REACT6123) January 30, 2017
First car leaving the scene. pic.twitter.com/zBuar26BjW

— White Rose Ambulance (@wraems) January 30, 2017