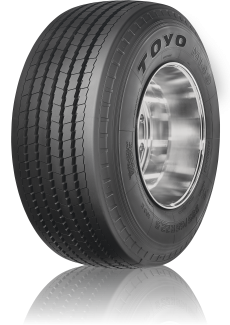 Toyo Tire U.S.A. Corp. is expanding the size availability for the Toyo M920 drive tire and the Toyo M149 Super Single.
The premium M920 drive traction tire, with its wide and staggered tread block, is designed for trucks that require all-season capabilities. Its two wide circumferential grooves are designed to shed water during wet conditions. New sizes added to the M920 lineup include a 315/80R22.5 with a Load Index of L, also an 11R24.5 and a 285/75R24.5. The total M920 size range now includes 225/70R19.5; 245/70R19.5; 11R22.5; 11R22.5; 295/75R22.5; 315/80R22.5; and 285/75R24.5.
The company has also added a new size to its Toyo M149, an all-position super single tire designed to deliver superior wear performance in tough operations, ranging from urban front axles to long-haul trailers. Optimized construction and tread design deliver high uniformity, even wear, and excellent wet traction.
In addition to a 385/65R22.5 size, the M149 is now also available in a larger 425/65R22.5 size tire. Both sizes feature 20-ply load ratings.