DAT's Ken Harper says that, looking at van and reefer data from the company's load boards this past week, he's "wondering if we've hit bottom on rates for 2017."
The overall picture (catch an update below) "reminds me of something my father, a World War II veteran, wrote me when I was in Vietnam," Harper adds. "Don't worry, son, no matter how bad things get, they can always get worse.' We called that 'Swedish Optimism.'" No doubt a similar sentiment may be in the minds of those running "vans from Lakeland, Fla., to Atlanta, where the average rate per mile was 93 cents" last week based on averages of actual transactions recorded, not including outliers at top and bottom.
There are reasons to be cautiously optimistic, however, Harper says, for spot freight. "Volumes on the top 100 van lanes were up 2.5 percent over the previous week, and about the same month over month. The Southwest was the only region where load-to-truck ratios and rates were depressed, and that was, as we've written before, in large part due to an influx of contract carriers putting their trucks on those lanes."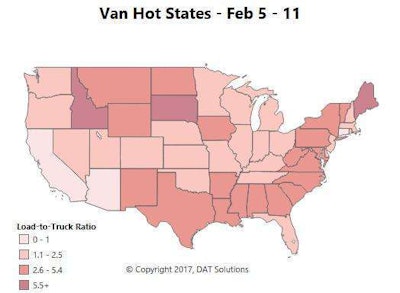 Van rates continue to slide last week, but as noted, if volumes continue to climb, we could be looking at the bottom for van rates.
Hot markets: Atlanta is the top market for van load posts on DAT load boards, and there was a lot more freight moving out of there last week, another positive sign. There haven't been any significant increases in van prices from any of the major markets for several weeks, but outbound rates were mostly neutral in Atlanta, Charlotte and Stockton, Calif., when compared to the previous week. Seattle and Buffalo were up slightly.
Not so hot: Contract carriers have had a bad January and February and have turned to the spot market. The effect of this extra capacity has been most dramatic in the Southwest, where volumes have been off. The combination has pushed load-to-truck ratios way down in that region. We really won't know if van rates are rebounding until ratios start to improve in that area.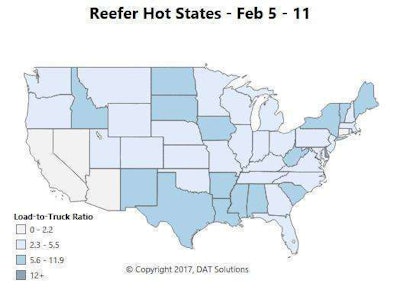 States that normally have robust winter reefer volumes – California, Arizona and Idaho – have been fairly soft so far this year, which has dragged reefer rates down in many markets.
Hot markets: One positive last week was Miami. It wasn't enough to turn the whole state dark in the Hot States Map up above, but there was a surge in potato shipments out of the southern portion of the state, which led to higher prices on lanes like Miami to Boston (up 33 cents to $1.92 per mile) and Miami to Elizabeth, N.J. (up 35 cents to $1.84 per mile). It's still too early for the main Florida surge, but it's a welcomed change.
Not so hot: Prices on some reefer lanes coming from northern markets took a tumble. Rates were down in Grand Rapids as a whole, and the lane to Cleveland lost 31 cents for an average of $3.02 per mile. Reefer loads going from Green Bay, Wis., to Des Moines, Iowa, also paid 27 cents less on average at $1.92 per mile.