With last week's spot market update, it looked like van rate averages on many lanes might have been near the bottom for this slow season. It's looking that way for reefer rates now, and spot market volumes have been relatively constant in the segment.
Hot markets: After surging briefly, Miami fell back down to earth last week, but the bright spot moved up a little farther north, with more loads moving out of Lakeland, Fla. — not enough to turn the whole state dark in the Hot States Map, but enough to boost prices on some outbound lanes from the middle of the state. Warmer weather in places also meant that certain commodities suddenly needed protection from heat, which led to higher reefer rates on lanes like Philadelphia to Boston.
Not so hot: Several lanes out of Miami had big drops, and the warmer weather had the opposite effect on lanes where commodities suddenly didn't need to be protected from freezing, like Green Bay, Wis., to Minneapolis. Reefer volumes were still lackluster in California, so no improvement there yet.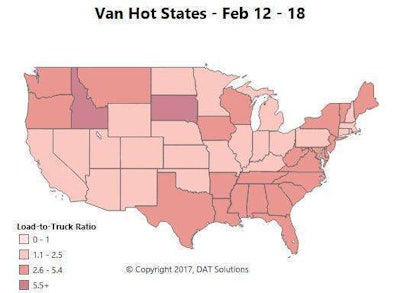 After last week's doldrums for van freight and rates, both appear to have stabilized to a degree, though low reefer demand has been a drag on van rates in recent weeks. When there isn't enough reefer freight to go around, those trucks start competing for van freight, and the extra capacity has kept van rates from going up in a lot of places.
Hot markets: Spot market volumes were way up in Allentown, Pa., and Philadelphia last week, but the number of available trucks kept the state from turning dark in the Hot States Map. Mudslides and detours on Interstate 5 affected shipments in the Pacific Northwest. The average van rate from Seattle to Eugene, Ore., jumped 21 cents to $2.28 per mile.
Not so hot: Outbound rates in Los Angeles were only down 1 percent last week, but they're way down for the month – only Denver has seen a bigger drop in the last four weeks. Part of that is due to bad weather, but soft contract freight has also played a role. Los Angeles is the No. 1 market for contract freight, and the low contract freight volume has led contract carriers to put more trucks on the spot market, which has hurt rates.