With this week's spot market update, showing some hot (and not so hot) freight markets around the nation for vans and reefer, DAT's Ken Harper risks stating the obvious by noting the big story this week is the winter storm out Northeast. "In terms of the spot market, we did see a flurry (pun intended) of loads posted up and down the Eastern seaboard as shippers moved freight ahead of the storm," Harper says, "as you can see on the Hot States map for vans."
Of the top 100 van lanes, he adds, "rates rose on most, but the overall trend was neutral. Spot market volumes remain strong, though, and if the winter storm leads to tighter capacity, we would expect rates to rise."
While results were pretty mixed for vans last week as a generla rule, some key southern markets were up. The Midwest and Los Angeles lost momentum. The spring freight season isn't here quite yet, despite last week's wishes.
Hot markets: Charlotte joined Atlanta as an early leader ahead of the spring season, but the story for the past few weeks has been Houston. There have been major investments in natural gas facilities all along the Gulf Coast, which has contributed to a big uptick in activity in the Houston market. That includes van, but it's especially true for flatbed.
Not so hot: Things were still pretty quiet out West. On the top 100 van lanes, only a couple had sharp drops, and they were on relatively low volume lanes: Seattle to Salt Lake City and Denver to Chicago.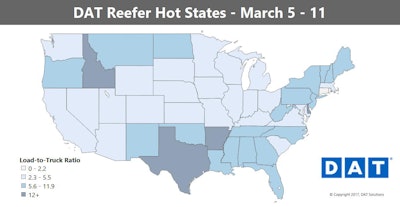 Reefer freight has had a rough winter, but things have started to turn around in the past couple of weeks. Most of the major lanes paid better, even though the national average was down 1 cent to $1.87 per mile. Load counts were up just slightly as a whole, but several major markets saw volumes rise by double-digit percentage points. It's good news going forward and should hopefully start to help van rates improve.
Hot markets: California continued to struggle with getting crops planted after winter weather woes, but there were more reefer loads moving out of Los Angeles. Texas is still the hot state for reefer loads on DAT load boards, though.
Not so hot: We're used to seeing low reefer rates out of Denver, but last week was especially bad. Both the lanes to Houston and to Ontario, Calif., were down 20 cents or more per mile, and even the inbound lane from Fresno, Calif., to Denver fell 23 cents to $1.85 per mile.
As noted, Southern Texas has been a hot bed for reefer loads compared to the rest of the country. A lot of Mexican produce comes into the country through McAllen, Texas, and then heads up to Dallas. That lane from McAllen to Dallas paid $2.51 per mile on average last week, but the trip back was at a paltry $1.55 per mile. If you want to get back to McAllen but are having trouble negotiating for a better price out of Dallas, split return with a load to Houston, then to McAllen. Reefer loads from Dallas to Houston paid an average of $2.32 per mile last week. Houston to McAllen is still just $1.54, but it's a shorter trip than Dallas to McAllen. The TriHaul earns about $300 more and adds about 80 miles.