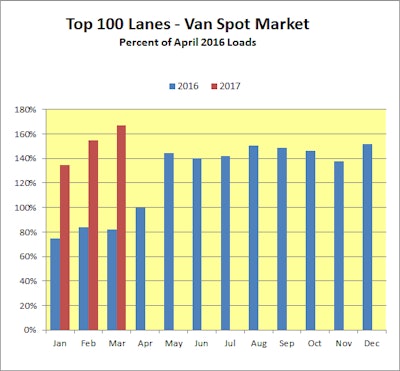 With this week's spot market update, DAT's Ken Harper stressed the chart above, which shows van load volumes on DAT load boards as a percentage of April 2016 loads. It's a clear illustration of just how much better the market is right now than this time last year. "On the top 100 lanes for vans in March," Harper says, "we're over 100 percent ahead of April 2016, which is usually the start of the first freight season."
He offered these bullet points:
**Van linehaul rates are up 2.2 percent up year-over-year, all-in rates (including fuel surcharges) up 7.9 percent
**Flatbed linehaul rates are 2.9 percent (see below for skyrocketing demand on the boards in this segment), while all-in rates are up 8.1 percent
**Reefer rates are the slug here, down a tiny fraction of a percent largely due to the delay in getting produce out of California due to the rains there, though all-in rates for reefers are up 5.1 percent with fuel-surcharge boosts.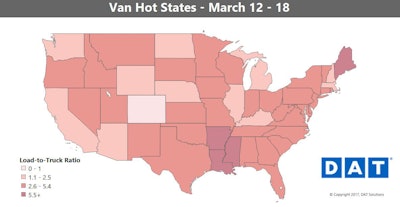 Van overview: Winter Storm Stella last week kept a lot of freight from moving, which led to some lower volumes in markets along the East Coast. Basically, there was a rush to move freight before the storm hit, and then highways were closed, so most freight couldn't move at all. After everything cleared, there was a rush to catch up, and the pent-up demand drove van rates higher. The snow was not as deep as expected, so conditions should already be back to normal in most markets.
Hot markets: You won't find any snow down in Houston, where freight volumes and rates continued to climb last week. If you look at all load posts on DAT, with all trailer types combined, Houston is No. 1 so far in 2017.
SIX LANES SHOWING BIG GAINS: It's been a while since we saw the average rate rise by 20 cents or more per mile on four lanes, in a single week. Last week's standouts included Houston to New Orleans, where rates kept going up, adding another 20 cents to $2.29 per mile. The rest of the big increases were related to the storm, as shippers tried to coax carriers back onto the roads in the snowy Northeast. Also:
Buffalo to Allentown, Pa., was up 22 cents to an average of $2.80 per mile
Allentown to Boston also paid 22 cents better at $3.19 per mile
Philadelphia to Boston rose 21 cents to $3.27 per mile
Lane rates from Charlotte to Allentown and Columbus to Allentown also rose by double digits
Flatbed overview: Flatbed freight continues to recover from a two-year slump, and last week the flatbed Hot States map was about as hot as we've ever seen it. Rates and volumes did retreat in some areas, but that's likely a blip caused by the bad weather. More good news is that the West is finally showing up to the party.
Hot markets: Port cities like Los Angeles, Jacksonville, and Tampa gained volumes last week. L.A. freight volume surged 10 percent, which pushed outbound rates up. Phoenix improved after a couple of subpar weeks, and Tampa rates hit a high for the year.
LANE RATES RISE IN THE WEST: On the lane from L.A. to El Paso, Texas, average rates rose 34 cents to $1.85 per mile. Las Vegas to Phoenix averages surged to $3.44 per mile, way above the typical rate. This might be a short-lived spike. Las Vegas to Salt Lake City also jumped to $2.94, a 27-cent boost.
FLATBEDS LOSE SOME TRACTION IN NORTHEAST: More lane rates rose than fell nationwide, but there were a number of significant drops.
Harrisburg, Pa., to Buffalo plunged 76 cents to $2.44 per mile, possibly due to the weather, but it also could be a correction, as that's a typical rate for this time of year.
The lane from Cleveland to Grand Rapids, Mich., had a similar drop, likely also a seasonal correction. That rate dropped 67 cents to $2.27 per mile.
In Texas, the average rate fell to $1.61 per mile from Dallas to El Paso, which could signal a slowdown in West Texas oilfields.
In the Southeast, Memphis to Houston lost 34¢ to $2.34 per mile, which could be related to increased strength of outbound rates from the Houston market.