Overall, the last week has been rather typical of this time of year on the spot market, as shown via this weekly update based on transactional freight data collected by DAT. "February is typically the doldrums for the spot market," as Ken Harper notes, and seasonal declines in freight and rates were seen generally across all segments, considered together. "But this year there's more freight and higher rates than a year ago" this time.
"Wait. Didn't I say that last week?" Harper quips.
Flatbed showed a bit of a bright spot, with load availability up 21 percent nationwide.
Hot flatbed markets: The mixed results so far in 2017 do show positives for metals, especially steel. That's helped push outbound flatbed rates in Memphis up 9 percent in the past month. Pittsburgh, Tampa and Fort Worth, Texas, also made gains last week.
Not so hot: A couple lanes out of Cleveland saw some big declines. The average flatbed rate on the lane to Roanoke, Va., tumbled 35 cents to $2.46/mile. Cleveland to Harrisburg, Pa., also lost 33 cents at an average of $2.45 per mile. Those rates aren't terrible – just lower than the recent past.
As noted, outbound flatbed rates in Memphis have been trending upward, and a popular destination from there is Houston. The average rate on that lane is up to $2.26/mile, but the return is down to a paltry $1.57/mile average in the past week. Break that return trip with a shorter load to New Orleans ($2.21/mile average), however, then another to Memphis ($1.86/mile), and you'll add about 170 loaded miles all told to the turn, and $606 in revenue.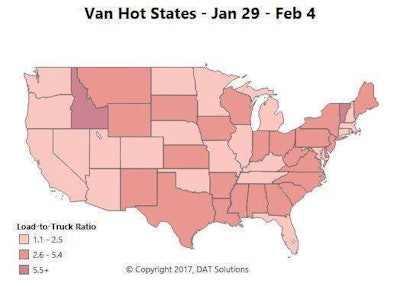 Van overview: Rates haven't dropped off as sharply as we've seen in the "slow seasons" of years past, at least not yet. Van rates were still a good bit higher last week than they were in February of 2016.
Hot markets: Outbound rates in Houston have held up the best in the past month, but Houston also didn't really see the same spike in prices that we saw in the rest of the country during the retail season. The top five markets for van load posts on DAT load boards last week were Cleveland, Atlanta, Dallas, Houston and Columbus, Ohio.
Not so hot: Rates are down on most lanes, but again, the silver lining is that rates haven't fallen off sharply. A couple of the biggest drops were on lanes that still pay pretty well for this time of year: Buffalo, N.Y., to Allentown, Pa., fell 15 cents to an average of $2.50 per mile, while Columbus to Buffalo was down to $2.47. Things are quiet out West. Seattle rates have fallen the hardest in the past month, while Los Angeles rates have dropped 9 percent during that same time.