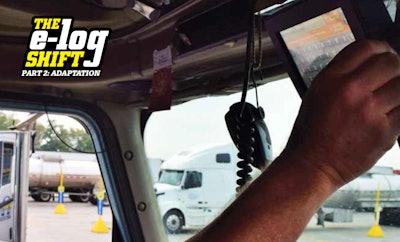 Some are predicting "the mother of all capacity shortages," resulting in significantly rising rates. The source of this looming crisis: the electronic logging device mandate.
If it's not pushed back or scrapped, the Federal Motor Carrier Safety Administration's final ELD rule requires virtually all interstate operators of commercial trucks that are year 2000 or newer models to use an engine-connected ELD on and after Dec. 18. It's expected productivity will drop, with at least a temporary shortage of capacity as the supply chain tries to adjust to a world where logs aren't fudged to accommodate routine scheduling problems.
The ELD transition might be less likely than many think to result in the huge boon to rates and pricing many hope for, suggests the Stifel company's Transportation and Logistics group. It issued a November report to investors that included notes from a conference call with a representative of the Transplace 3PL/brokerage about this subject.
The larger fleets surveyed by Transplace reported productivity declines of 3 to 6 percent with ELDs, Stifel reported. Some regained it after operational changes were made to adjust. At least some smaller fleets were thought to have experienced greater declines, though anecdotes abound of beefing up/adjusting office operations to help plan better runs to combat the problem.
Eight in every 10 larger fleets (defined in the report as 250 trucks or more) were using ELDs, Stifel wrote, while "only 33 percent of smaller fleets had fully implemented." For the smallest one-truck fleets among Overdrive's core audience, most recent estimations show an even smaller share having moved to implement a fully engine-connected e-log unless they were leased to a fleet where it was required or encouraged.
The short-haul and other ELD exemptions
Part 1 of this broader series, published in the December 2016 issue, addressed perhaps the biggest exemption to FMCSA's ELD requirement of import to owner-operators: the exclusion of 1999 and older model-year trucks from complying. Other exemptions exist, however, for the following groups:
• Drivers in drive-away/tow-away operations, where the vehicle being driven is the commodity being delivered.
• Drivers operating under the timecard exception to the hours recording rules – the 100- and 150-air-mile radius short-haul exceptions – exclusively.Hotshot flatbed owner-operator Buster Lewis' business is such that, occasionally, he doesn't technically need to keep a logbook under the hours regulations, given he mostly stays well within a 150-air-mile radius. However, as he notes, he's keeping logs for well more than an eight-day time threshold that the ELD final rule specified for such operators, the final exempted class:
• Drivers who do occasionally keep a log book but do not do so for more than eight days in any 30-day period.

For more on the pre-2000 model-year exemption from the mandate, read the December 2016 cover story on the subject.
Montana-based owner-operator Chuck Shaffer is among the latter, having transitioned in mid-2014. Shaffer, who hauls in a 2007 Volvo 780, says that his live-load flatbed operation might have suffered more than a 6 percent decline in productivity. When the e-log was new to his operation, missed load opportunities became something of a norm due to hours. Such issues might not be as apparent – or at least less dramatic – in drop-and-hook or more quick-load operations, he guessed, given they "don't have to sit at a dock waiting," eating up hours within their 14-hour daily on-duty maximum with idle time.
Shaffer says he's "not one that did 'creative writing' in the last 10 to 15 years. But with the current rules the way they are," with rigid constraints on hitting the pause button for very long on the 14-hour on-duty clock to extend drive time, going electronic has firmed up that rigidity, with occasionally costly results.
Shaffer says he suffered a $20,000 revenue hit between 2014 and 2015, but fuel's dramatic falloff in price and concurrent surcharge-revenue declines likely accounted for a lot of it. Based on DAT's surcharge tracking by segment and ATBS' owner-operator income averages, the average surcharge decline from 51 cents/mile to 28 cents/mile between 2014 and 2015 represents a 13 percent revenue-per-mile decline, figured as a percentage of 2014 revenue for the average flatbedder.
The three independents examined here say they did not experience significant revenue effects following adoption of fully engine-connected electronic hours recording. Though all experienced a learning curve, benefits also have been seen, such as time saved and efficiencies from new back-office tools:
—–
ELDs and the 'quagmire' of undue detention
—–
E-log sticker merits easy time at weigh station