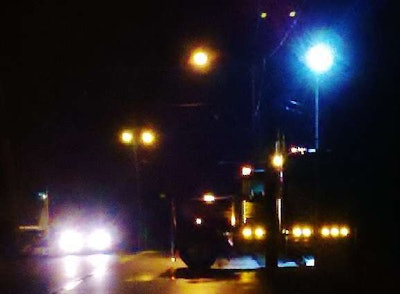 Click on this link to return to the anchor piece in this series.
Rico Muhammad knew the challenges associated with the e-log environment before he ever made the transition. Using the BigRoad smartphone logging app, he simulated an e-log operation before converting in 2015 to engine-connected e-logs with Rand McNally's TND760 fleet edition ($550-$700, about $20/month).
He runs two trucks, himself operating a 2002 Kenworth T2000 out of Atlanta. In recent times, after regular freight from a direct customer dried up, he turned back to using brokers via load boards to fill his trailers, occasionally supplemented with direct freight. Muhammad echoes Chuck Shaffer's concerns about the impact dock delays have on the bottom line.
He'd like to see more flexibility in the hours regulations around the 14-hour daily on-duty maximum, "if you could stop the 14-hour other than taking an 8-and-2 split." As with many owner-operators, he looks back with favor on the days of 10 on, eight off.
In reefer, getting loaded and unloaded is still a major problem, he says, as is "trying to get people to agree to detention terms." Not that a little additional revenue itself is so valuable, but rather detention pay "should be used as a tool to avoid being detained. It doesn't do me any good to be sitting there."
E-log edits and the enforcement environment
Owner-operator Rico Muhammad makes an important point about engine-connected e-log use for owner-operators hoping to maximize on-duty/drive time. "Get on top of making sure that everything is logged properly" the first time, he says.Depending on your device and software, making edits on the fly may be cumbersome. All edits are recorded in the devices' records, making it important that you use the "notes" sections to explain why the edit was made, as Muhammad points out. "Once you're in that driving mode," things get more complicated. To change any drive time, "you can't do it in the user interface in the truck. You have to log in to the administration portion" via your web-based or on-hardware portal to stored records.As per the ELD final rule, the driver then has to "approve the modification that was made," Muhammad says, noting that as an independent, he's doing each on either end himself. He might let a minor error – say, remaining on-duty not driving longer than he really was at this or that stop, or logging off-duty when he was in the sleeper – stand in order to preserve a clean log.He assumes lots of annotations and changes could invite closer scrutiny by inspectors, and so far – knock on wood, Muhammad says – that hasn't happened. "I've gotten inspected with it a couple of times. Usually when they see that it's wired [to the engine], they don't do a real comprehensive analysis of it" – unlike his experience running paper logs, thus saving some time at the scale house.

"They pretty much just say, 'Let me see the summary page,' " showing his status relative to the 14-hour on-duty maximum, the 11 hours of maximum daily drive time and his cumulative hours limit of 70 hours in eight days.

When he had the BigRoad logging app on his phone, not connected to the engine's electronic control module, inspectors "scrutinized those logs a little heavier," he says.
Though e-logs enable Muhammad and other similarly equipped owner-operators to prove to shippers, receivers and brokers how long they've been at a facility, he's not getting "a lot of mercy" out of them. "By going to these e-logs, we can prove that we were there," but with so many operators still not using e-logs, inefficient shippers and receivers aren't feeling across-the-board pressure to improve.
Truckers keep "giving away so much free labor," he says. "Most guys still operate on the mentality of 'I've got to get the load there, at whatever costs.' That mentality has been exploited on the other end. Brokers and shippers know that drivers have been able to cover up a lot of their mishaps."
Now, even as more large carriers and some small operations shift to e-logs, "truckers are still coming out on the short end of the stick," says Muhammad, citing a recent situation where he was delayed 11 hours at a cold storage facility, throwing off his subsequent commitments.
Undue detention can "kill all opportunities to make a reload. … That's when you run into the whole quagmire" — damned if you do and damned if you don't: Book a load when you can't get to it in time because you're "still not unloaded, and you're looking like an idiot," Muhammad says. "It hurts you as a businessperson."
Don't book a load, and you can ensure you're sitting empty through yet another long off-duty period, with little productivity to show for the day.