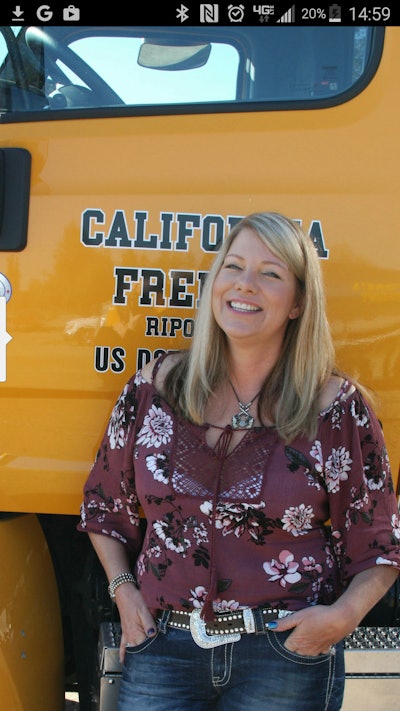 Darlene Williams of Modesto, California, is one of this year's 10 Overdrive's Most Beautiful finalists. She's been driving for 20 years and is currently a company driver with California Freight.
Becoming a truck driver was just a "fluke" for Darlene Williams. "When I was a teenager, someone gave me a base station CB. I enjoyed talking to all kinds of drivers."
She got to know some local owner-operators, one of whom taught her to drive his fuel tanker, a 1987 long-nose Peterbilt. "That solidified my interest in pursuing a career in the trucking industry," she says.
"I feel so blessed to have had the opportunity to see people and nature in their purest forms. For beauty is of the heart, mind and soul. Because of my career in the trucking industry, I have acquired lifelong friends that have now become my family."
During her 20 years as a trucker, she raised two children. Her history has included homelessness, bankruptcy, divorce and losing the truck she owned. But she has stayed committed to her job and family and has goals, too. She would love to find a partner with the same interests to go OTR to "see the beautiful countryside."
[gthr size="5″][/gthr]
This is the fourth of 10 stories about this year's finalists. Check back throughout March for the rest. The winner will be announced in April and presented at The Great American Trucking Show in Dallas, Aug. 24-26.