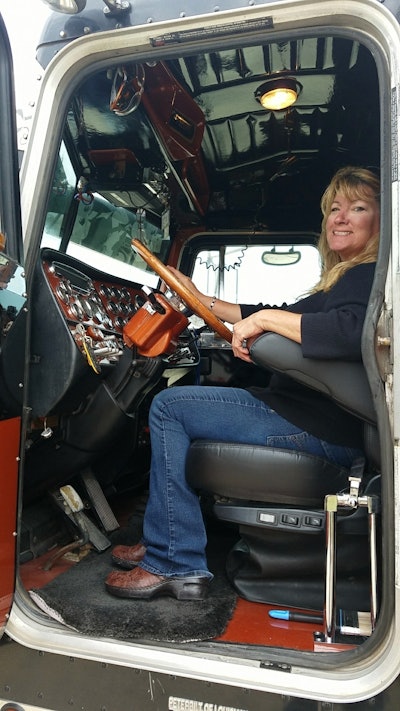 Michele Dupre started driving 30 years ago. She was able to raise her two children on her own while maintaining her career and has been named best driver. She's also powered through health issues, including back problems caused by driving, to keep on trucking. Based in Galliano, Louisiana, she now drives for American Eagle.
Regardless of her health, Dupre "still gets up at the crack of dawn and cranks that truck up and chugs on down the road," says her daughter, Samantha.
Dupre says self care can be a bit of a challenge "without the amenities of home. I try to eat as well as I can on the road, which is next to impossible being on the go. I learned how to do a lot of improvising!"
Even so, she knows what she does is meaningful, fulfilling work. "What is beautiful about female drivers is the confidence it brings out in us. I myself feel a huge sense of accomplishment after each load is complete," Dupre says.
Dupre was awarded March 2013 driver of the month at a previously employer. "She usually is volunteered to train the new guys because well, she's a badass," Samantha says. "She has given so much of her time to the road and a big truck just to provide for me."
In fact, Samantha began riding with her mother at age 5. Dupre says, "I have been blessed with getting to see some of the most beautiful country that I never knew existed and the opportunity to share it with my children and family."
[gthr size="5″][/gthr]
This is the fifth of 10 stories about this year's finalists. Check back throughout March for the rest. The winner will be announced in April and presented at The Great American Trucking Show in Dallas, Aug. 24-26.