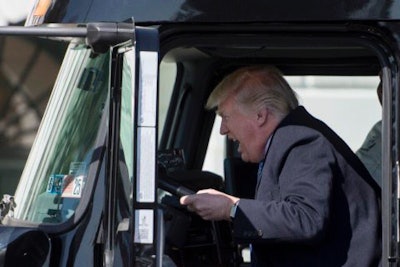 President Trump's discussion with trucking industry representatives early afternoon Thursday, March 23, was narrow in focus, says a fleet executive who attended, with talk centering almost exclusively on healthcare reform. Eric Fuller, the CEO, president and chairman of Chattanooga-based U.S. Xpress, spoke to CCJ in an exclusive interview Friday about the meeting.
Fuller, who's also on the board of the Trucking Alliance, was one of 10 carrier executives and 12 truck drivers who met with Trump. The American Trucking Associations organized trucking's representation, which included ATA carrier members and several ATA America's Road Team Captains, a group of long-tenured company drivers with strong safety records.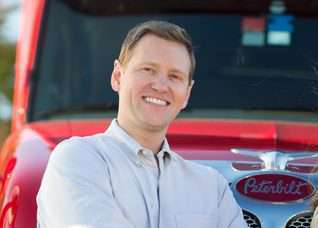 "The interesting dynamic we picked up on was Trump really gravitated toward the drivers," Fuller said. "He engaged with them more than he engaged with the CEOs. He really wanted to learn about driving, and he had a lot of questions about life on the road."
Outside of the pre-determined topic of healthcare reform, little else was discussed, says Fuller. The group talked infrastructure funding briefly, he said, but avoided such topics as hours of service reform and the electronic logging device mandate. The only talk of hours stemmed from Trump's curiosity about how many hours a week truckers can drive, Fuller says.
The White House and ATA said prior to the event that repealing or reforming the 2010 Affordable Care Act (aka Obamacare) would be the focus of the meeting. At the time, Trump and his staff were pushing to rally votes for the Obamacare repeal bill in the U.S. House. The bill has since died after Trump and House Speaker Paul Ryan failed to garner enough support in the House.
The meeting lasted roughly an hour, Fuller said, including the widely reported time Trump spent on the White House lawn greeting the truckers and carrier reps. From the lawn, the group moved inside for the meeting.
The employer side of the room "mentioned the rising costs [of healthcare] and how it's really important for us as an employer to provide quality healthcare that's accessible to our employees and that we wanted the government to give us the ability to do that," Fuller said.
He hopes trucking stakeholders have more meetings with the administration or its staff in the coming years to discuss infrastructure and other topics of industry concern. "Down the road hopefully we can have a more substantive conversation with the president," Fuller said
Fuller just this month became the CEO of U.S. Xpress, the 14th largest carrier in the country. He's also the company's president and chairman. His dad Max, the former CEO, has assumed the role of executive chairman.
As Overdrive reported last week, Trump met the group on the White House lawn, where he climbed aboard a Mack Pinnacle and posed for photos with the drivers in attendance. Later, he was pictured wearing an I Heart Trucks pin.