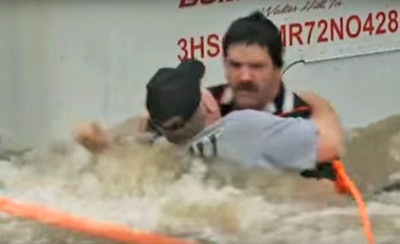 A New York truck driver who rescued another trucker from rising flood waters in Houston, Texas, last April has been named the 2016 Highway Angel of the Year by the Truckload Carriers Association and EpicVue.
Daniel Sieczkarski of Rochester, N.Y., a driver for Melton Truck Lines out of Tulsa, Okla., received the award at TCA's Annual Convention in Nashville Monday.
On April 18, 2016, Sieczkarski was driving on I-10 near Brookshire, Texas, just outside Houston when he heard about flooding in the area on the radio. Shortly thereafter, he saw a tractor trailer parked sideways near a bridge and noticed floodwaters rising around the truck with the driver still behind the wheel.
Sieczkarski then parked his truck and ran back to the scene, where he unsuccessfully tried to talk the stranded driver into leaving his truck and belongings behind. At this point, Sieczkarski threw on a life vest that another motorist had tied to some tubing and swam out to the truck. When he opened the cab door, the other driver realized how high the waters were rising and decided to leave his truck behind.
With the help of other motorists who stopped to help, Sieczkarski was able to get the stranded driver back on dry land.
For being named the 2016 Highway Angel of the Year, Sieczkarski received a trophy and a prize package from EpicVue that included a 24-inch flat screen TV, a DVR, and a one-year subscription to over 100 channels of DIRECTV programming, including premium channels such as HBO, Cinemax, Showtime and the NFL Sunday Ticket. Nashville recording artist Lindsay Lawler, the official spokesperson for the Highway Angel program, sang her appropriately-titled song, "Highway Angel" at the awards ceremony.