Rebekah Meadows is used to people doing a double-take when they see her. The Henrico, Virginia, owner-operator expertly maneuvers her black, 2006 Peterbilt 379 and its giant, 84-stacked trailer loaded with 12-foot wide concrete beams, escorted by several pilot cars, all like it's no big deal.
With 15 years of trucking experience, and now leased on to J. Grady Randolph, Meadows is proud of her strength, both interior and exterior. As the only female in the large, Daeske-owned company, she's proven she has the chops to be a top driver and has earned the respect and friendship of her co-workers. In fact, they call her "Hollywood," a nickname given to her by her husband when he first saw her. "I'd never seen such a pretty trucker," he told her.
It's not always been a smooth road for Meadows. As an adult, she developed a severe case of cystic acne. Times were tough and by the time she could get medical care, she had sustained deep facial scars. "I know that beauty is more than skin deep, but it was really hard," she says. She struggled with her self-esteem and other obstacles began to mount. She also has major degenerative disc disease that causes constant pain and requires medical treatment.
Now that she has medical coverage, she's able to continue the facial surgeries and spinal treatments she needs. Plus, after a series of financial setbacks, she's back on track to pay off her truck.
Despite all her health challenges, this spirited beauty says her family has been her support and credits them for helping her through the tough times.
"It's hard to balance everything, but through sheer determination, hard work and the support of my family, I'm stronger than ever. My friends and loved ones see 'me' and that's what makes me beautiful in their eyes."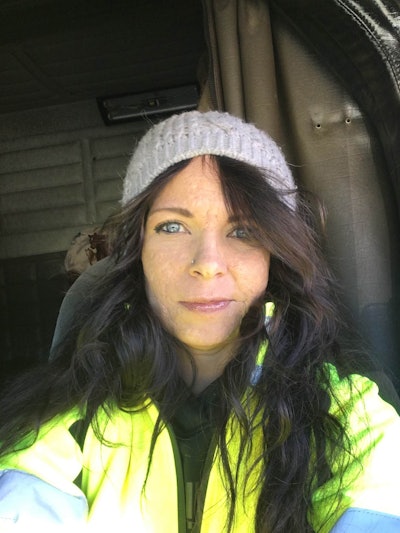 Meadows has a big heart for animals, especially horses and dogs. In fact, she has six American Saddle breed horses, including one, a starving rescue named Sunny, that she brought back to health.
She's always ridden horses, trained them and was a professional riding instructor. She loves spending time with her animals and her husband and children.
"I know I'm a good person. I'm the kind who will go without to make sure my children or the horses have what they need," she says.
[gthr size="5″][/gthr]
This is the eighth of 10 stories about this year's finalists. Check back throughout March for the rest. The winner will be announced in April and presented at The Great American Trucking Show in Dallas, Aug. 24-26.