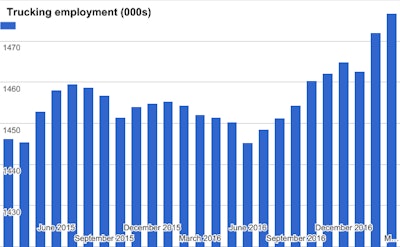 The for-hire trucking industry added 4,700 jobs on a seasonally adjusted basis in March, according to the Department of Labor. The gain follows a big boost in February, in which the industry added nearly 10,000 jobs.
Trucking's employment additions were part of a lackluster month for national employment, with the U.S. economy adding just 98,000 jobs, according to the Labor Department's monthly report.
For-hire trucking employment now totals 1.4768 million, per the DOL. That's an increase of nearly 25,000 jobs compared to the same month last year.
The construction industry in March added 6,000 jobs, while manufacturing gained 11,000 jobs.
The transportation, trade and utilities sector — the umbrella group for truck transportation jobs — lost 27,000 jobs in March.