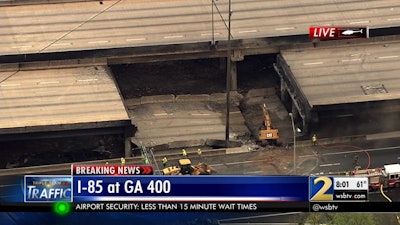 Georgia DOT officials are offering $3.1 million in incentives to a contracting company to get I-85 reopened as early as May 21, reports Atlanta news station WSB-TV.
Last week, the department announced its "aggressive but attainable" goal of getting the interstate repaired and reopened by June 15. According to the report, GDOT expects the incentives to speed up the rebuilding and repair process.
"We are very serious about getting this roadway back open so that people can get back to their lives, not to have the adverse impact to business and the economy and people's daily commutes," said GDOT Commissioner Russell McMurry in an interview with the station.
Through-trucks are not allowed to use the section of I-85 where it's closed, anyway, and are required to use the I-285 bypass around Atlanta. However, the closure is expected to push the vehicles to other roadways, such as I-285, which could increase congestion faced by truckers traveling the bypass route.