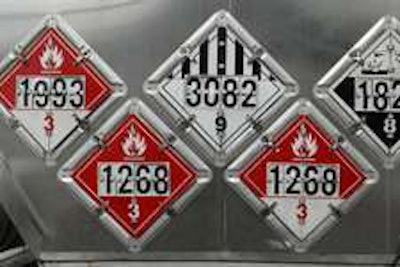 Trucking organizations are pleased Congress is considering a measure to let truckers with Transportation Worker's Identification Credentials receive hazardous materials endorsements without additional background checks.
The Owner-Operator Independent Drivers Association, American Trucking Associations and National Tank Truck Carriers applauded the Surface Transportation and Maritime Security Act, reintroduced March 30. Committee chairman Sen. John Thune bill sponsored S. 763, which is largely similar to legislation the South Dakota Republican sponsored last September.
Since 2002, the Transportation Security Administration has required TWIC for truckers and other workers seeking unescorted access to secure areas of port facilities and vessels. Truckers say undergoing separate but similar security threat assessment for the credential and HME results in duplicate fees, without enhancing security.
The legislation would require greater risk assessment for surface transportation, which usually accounting for only 3 percent of TSA's budget. Industry groups noted that the bill also mandates formation of the Surface Transportation Advisory Committee to enhance communication with the agency and participation in policy and pending regulations.
Thune's proposal also targets improving passenger rail security and increasing use of canine teams in surface transportation.