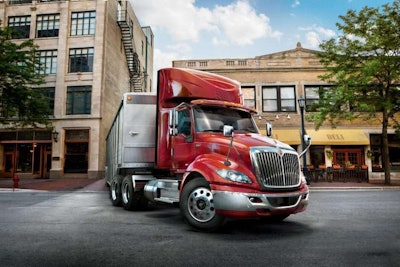 International Trucks debuted Thursday a new tractor aimed at the regional haul market.
The RH Series, which made its debut at ExpoCam in Montreal, will be the first to get International's new 12.4 liter A26 engine as standard.
Navistar will begin taking orders for the RH Series next month.
For the RH Series, Navistar engineers redesigned side windows and mirrors to provide enhanced side visibility. The RH Series provides an inside wheel cut of up to 50 degrees delivering a curb-to-curb turning radius of only 27 feet 10 inches. The RH Series is a replacement for the ProStar 113-inch BBC model and the TranStar 107.
Like its LT Series truck, the interior for the RH was conceived from a study of interaction points between the driver and truck – everything from what a driver sees to how he moves and reacts in virtually any situation, Navistar says. Features like a large swept-back windshield, optimized mirror placement and an aerodynamic sloped hood for a clearer view, all contribute to greater visibility, the company notes.
Overdrive sister site CCJ has more on the new RH series at this link.