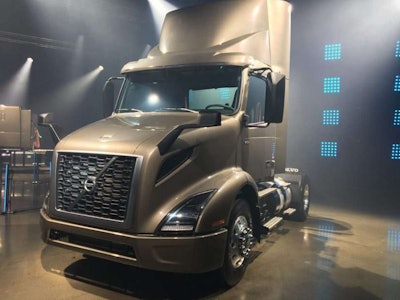 Volvo Trucks North America on Thursday in Montreal rolled out the company's first new production model tractor since the VN Series debuted 15 years ago.
The VNR will be available in three models: daycab, 42-inch flat roof sleeper and 61-inch mid-roof sleeper.
Volvo's launch of the VNR coincides with what the company believes is strong market potential in North American regional trucking operations, citing shrinking lengths of haul, driver desire for more home time and consumer demand for immediate delivery of goods.
"The regional haul segment is changing and growing, and we are going to be a part of the solution to help our customers perform in that segment, but it needs a champion," said Göran Nyberg, president of Volvo Trucks North America.
VNR will feature three interior trim levels: Fleet, Express and Premium.
Volvo took several design cues from the people behind the wheel, asking drivers everything from their seat preferences, to what they have on their dash and where they store their coolers.
New cupholders are modular and flexible and mounted on a rail with an easy toggle switch release. A 5-inch full-color display features audio with Wi-fi, Bluetooth, navigation, apps and an exterior camera.
A new three-motion adjustable steering wheel offers tilt and telescoping, but also provides a 30-degree tilt relative to the position of the steering column.