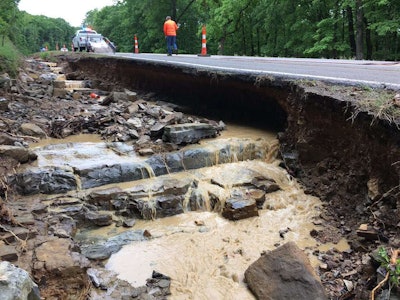 Repairing some washout damage along SH-82 near Cookson in Cherokee Co. Workers are flagging traffic. #okwx pic.twitter.com/2rkvtKwnWJ

— OKDOT (@OKDOT) April 30, 2017
Oklahoma Governor Mary Fallin declared a state of emergency in her state following severe thunderstorms that delivered high winds and rain to the northeast and snow in the northwest of Oklahoma, hampering travel and washing out portions of state highways like 82, shown near Cookson in Cherokee County above.
A second executive order issued by Fallin suspends the requirements for size and weights permits of oversized vehicles that are transporting materials and supplies used for storm relief. The waiver lasts 30 days.
The worst of numerous closures occurred Saturday, but Monday morning some remained, including:
**U.S. 56: As of early Monday morning, Oklahoma DOT reported the highway closed from the Kansas state line in Texas County to Boise City and state route 325. All other highways in Cimarron and Texas Counties are open but roadways are wet with the possibility of slick spots. Drivers should be aware of the possibility of black ice on the roadway.
Flooding/high water-related
Cherokee County
**SH-80: closed five miles south of SH-51 between Hulbert and Fort Gibson
**SH-10: closed 13 miles north of U.S. 62
**SH-82: narrowed to one lane with flaggers four miles south of Cookson
Grant County
**SH-11: closed three miles west of Medford
**SH-11: closed three miles east of SH-82
Lincoln County
**SH-105: closed one mile east of U.S. 177 near Tryon. Traffic is still open east to Tryon from SH-18 to SH-105.
Mayes Country
**SH-20: closed 2.5 miles west of the SH-82 junction
Nowata County
**SH-10: closed four miles east of the US-169 junction
Ottawa County
**SH-125: closed at River View Park in Miami
Tulsa County
**SH-20: narrowed to one lane between Lewis Ave. and SH-11
**SH-11: closed between 116th St. N. and 136th St. N.
Access a map view of ongoing closures via this link.
Tweets from https://twitter.com/channel19todd/lists/roads-511