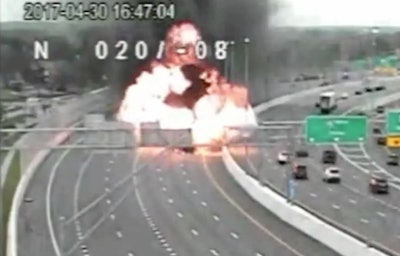 A fatal crash involving a wrong-way driver and a loaded gasoline tanker on I-75 in Dayton, Ohio, on Sunday, April 30, appeared to be intentional, according to a witness of the crash.
WHIO-TV in Dayton quotes motorist David Arnold, who was driving behind the tanker at the time of the crash, as saying 30-year-old Andrew T. Brunsman crossed two lanes of traffic to ram his car into the tanker owned by Lewis Transportation of Columbia, Ky., and driven by Richard Miller, 59, of Dayton.
"The truck driver did everything he could to get away from the car, but he (Brunsman) just wanted to hit him," Arnold told the TV station.
The report adds that after Miller's truck came to a stop against the median barrier, he ran to nearby cars warning drivers that the truck was going to explode.
Miller is said to have suffered a dislocated shoulder as the result of the crash.
A Dayton Police report on the accident indicates alcohol or drugs are suspected to have played a role in Brunsman's actions. No drugs or alcohol use was suspected of Miller, and he was not tested, according to WHIO's report.