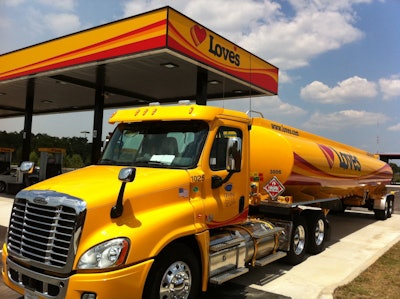 The fuel-hauling fleet for Love's Travel Stops, Gemini Motor Transport, recently awarded 78 of its drivers with $1.8 million in safe driving bonuses as part of the company's Gemini Safe Driver Credits Program, which began last year.
The bonuses, which equate to approximately $23,000 per driver depending on his or her previous 12 months' salary, were awarded to drivers who remained accident-fee and adhered to the company's safety policies and procedures for five years.
The credits are awarded to drivers on an annual basis. To receive a safety credit, drivers must have no accidents, tickets or fuel-related incidents in a one-year period, and they must also pass all U.S. DOT inspections. Once drivers collect five safety credits, they are eligible for the bonus.
The company says there are 110 drivers on track to receive the bonus next year.