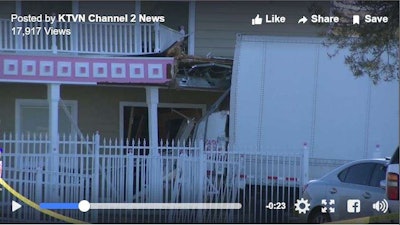 A disgruntled former trucking company employee allegedly stole a tractor-trailer from the company and rammed it into the front of the Moonlight Bunny Ranch, a legal brothel in Nevada, early Thursday, May 25.
The Lyon County Sheriff's Office reports it arrested Brian Brandt, 40 of Reno, Nev., and charged him with assault with a deadly weapon, destruction of property of another and possession of stolen property.
Surveillance video and photos of the scene show the trailer had been backed into the brothel. While the front of the building was damaged, the sheriff's office said there were no reported injuries in the incident that occurred at about 3:30 a.m.
KTVN-TV reports Brandt allegedly stole the truck from his former employer, Central Transport in Sparks, Nev. A company spokesman said Brandt was angry for being fired in February. KTVN says trucking company managers found the front door of their facility smashed in Thursday morning and a truck stolen.
Brant was said to be wearing bullet-proof vest and mask at the time of the incident. Brothel owner Dennis Hof told KTVN the crash caused about $400,000 in damage to the building. The Moonlite BunnyRanch was featured in several shows on HBO.