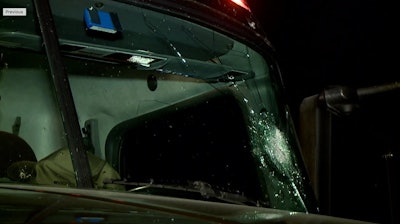 At least 8 semi trucks damaged by thrown rocks on I-465 on south side #FOX59Morning https://t.co/72nU1oSN0L

— FOX59 News (@FOX59) June 8, 2017
At least eight trucks were damaged last week near Indianapolis after rocks were reportedly thrown off of overpasses at them, according to a Fox59 report.
The report says the trucks were hit on I-465 on the south side of the city around 1 a.m. Thursday, June 8. The rocks reportedly cracked, dented or shattered the windshields of the trucks.
According to RTV-6 in Indianapolis, incidents such as this have been going on for months in the area. The station also reports an Indianapolis Metropolitan Police Department cruiser was struck by rocks thrown off a bridge in the area earlier this month.
No arrests have been made in either of the incidents, RTV-6 reports.