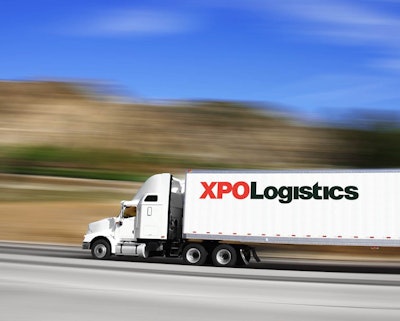 A federal court has upheld the California Labor Commissioner's total award of $958,660 to five XPO Cartage truckers misclassified as independent contractors, while the company is appealing April's similar but separate ruling.
U.S. District Judge William Keller agreed May 16 that the XPO Logistics subsidiary must reimburse the drivers for expenses and unlawful deductions because of being misclassified as independent contractors. The company, formerly known as Pacer Cartage, appealed the commission decision to state Superior Court before it was removed to Los Angeles' federal court.
When asked to comment on the Keller's ruling, XPO repeated the statement issued following the commission's April 14 order, now on appeal. The agency had awarded a total of $855,286 to four truckers it determined were misclassified as independent contractors. A company representative said XPO is certain most of its owner-operators prefer to work as independent contractors and pledged to continue to "advocate for their right to do so"
The judge concluded that the five cases were not preempted by the 1994 Federal Aviation Administration Authorization Act of 1994. The four-day bench trial and post-trial briefing ended with him upholding the agency awards of $95,320 to $286,928 to reimburse the truckers for expenses and unlawful deductions. The drivers also may submit motions to cover costs and attorneys' fees.
In the previous case, the commission had awarded damages to the four drivers for meal and rest breaks, liquidated damages and interest. XPO had maintained that the state should compel the truckers use arbitration to settle the issue, as stipulated in the agreements they signed with the company.
The awards also compensated for so-called "nonproductive time," in compliance with a 2016 California law affecting piece-rate workers across all industries. That law set compensation and wage requirements for piece-rate workers regarding rest and other nonproductive time. In this case, the drivers were compensated for tasks they previously had not been paid for, such as inspecting their truck and scanning documents.
The commission added that that in recent years, state courts have upheld its decisions in drayage misclassification cases. Also, since 2013, federal courts have consistently upheld its authority to adjudicate these claims and rejected arguments that wage claims truckers filed with the commissioner are preempted by the FAAAA.
The agency, also known as the Department of Industrial Relations' Division of Labor Standards Enforcement, launched its Wage Theft is a Crime campaign in 2014 to help educate the public about worker rights and employers responsibilities.