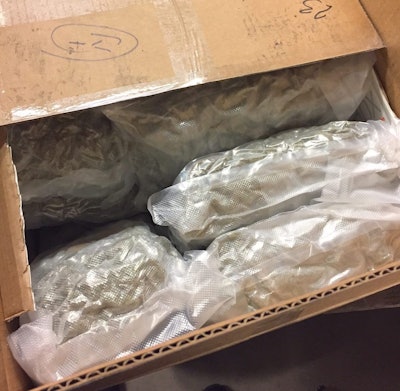 A truck driver was arrested June 15 as he tried to enter Tinker Air Force Base in Oklahoma City with 715 pounds of marijuana and several thousand bottles of marijuana oil in his trailer with other cargo, according to an Oklahoma Bureau of Narcotics Facebook post.
The driver, 59-year-old Ashot Grigoryan, was charged with drug trafficking and maintaining a vehicle for drug activity. According to OBN's post, a narcotics agent was performing military duty at the base, who found duffel bags containing marijuana in the trailer during a routine inspection of the truck at the base's gate.
After further inspection, agents found approximately 35 boxes of raw marijuana weighing 715 pounds, along with thousands of small containers of marijuana THC vape oil. The drugs were found among $25,000 worth of frozen chicken, which was destined for New Jersey.
Authorities believe the marijuana was being moved from Pasadena, Calif., to New Jersey. Grigoryan was already on probation in Missouri for a previous trafficking case, according to OBN. He could also face federal charges in addition to the ones leveled by the state.