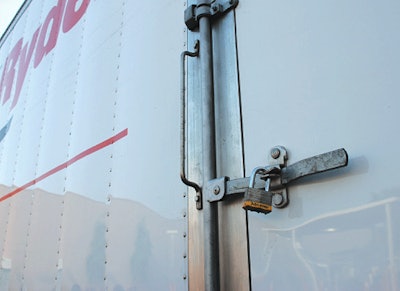 Cargo theft recording firm SensiGuard, formerly known as FreightWatch International, is warning truckers and logistics organizations of increased cargo theft during the July 4 holiday period. The firm says cargo theft was 120 percent higher during the July 4 weekend in 2015 and 2016 compared with the rest of the year.
Because July 4 falls on a Tuesday this year, SensiGuard says many facilities will be closed on Monday, July 3, extending the weekend and resulting in trucks being parked for longer periods of time. The average loss value during the last two years for the July 4 weekend was $365,453 per theft.
The firm suggests confirming receivers' hours for the holiday weekend and using GPS tracking and active monitoring on high-value shipments.
Scott Cornell, transportation lead and crime and theft specialist for Travelers Insurance, says the ideal solution is to not leave cargo unattended during the weekend, but when that isn't an option, he offers the following suggestions:
Educate drivers and staff to make sure they understand the risk of unattended cargo.
When possible, stage loads at secure company yards. SensiGuard says 71 percent of cargo thefts occur in unsecured parking areas.
Use a combination of locks, including landing gear or kingpin locks and rear door locks, as well as air cuff locks if the trailer is hooked to a tractor.
Consider covert tracking systems that track the location of loads. Many allow geofencing that will send alerts if the shipment leaves a certain area.