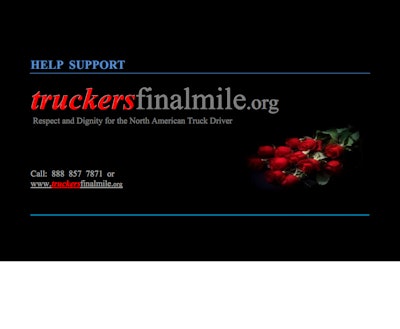 Hey kids, it's hot outside and if you have a pet, they've likely disappeared under the bunk from firework boom-fear, so not many of us are thinking about Christmas. As a matter of fact, I have a personal dislike for people who insist on mentioning Christmas in July, because I'm enjoying my hot dogs and PBR way too much to consider winter at all, much less the holidays.
Those people, however, don't include our friend and founder of Truckersfinalmile.org, Robert Palm.
Robert starts thinking about Christmas in July because he's planning ahead for the charity organization's 3rd annual "Sleigh Bells for Santa" campaign. Robert began this effort in 2015, to help children during the first Christmas after losing a CDL parent, and says, "We like to remind them their trucking family still cares, and thinks about them."
"Sleigh Bells for Santa" is an extension of Truckersfinalmile.org, and both rely solely on public charitable donations to operate. 100 percent of monies raised goes towards actual cases. Robert uses collected funds to support the efforts of reuniting drivers and their families, in the event of critical illness, injury or death while they're on the road.
Twenty-nine families have been assisted this year, compared to a total of three for the entire year of 2014, when he began the charity. Robert has more than doubled assistance each year, a number he's definitely ambivalent about. "I'd like for this to not be necessary at all, but I'm thankful for support and generosity from the trucking community in helping us help the families we serve. It's so nice to be able to tell a grieving spouse or loved one, 'We got this.' It's one less thing for them to worry about."
Both campaigns can be donated to at TruckersFinalMile.org, and Robert reminds folks anything helps. "We're not one of those charities where the administration is paid more than is used to benefit the charity. I operate with an ancient laptop computer and Pilot Flying J WiFi, and I'm out here trying to make a living trucking, just like the rest of you. I know how tight money can be. We appreciate every donation, from a dollar to a hundred. they all add up to being able to help another family."
Thanks for what you do Robert!