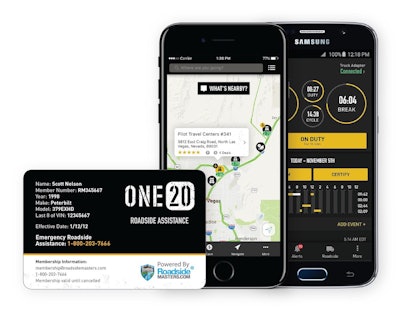 One20, a trucker-focused mobile app maker, has partnered with roadside assistance company RoadsideMasters to give free roadside assistance to drivers who use One20's mobile app.
Starting in August, One20 users will be eligible to join RoadsideMasters' Silver Level service for free, which includes truck and trailer towing, flat tire change, tire repair, mobile mechanic service, jump starts and more.
Additionally, One20 users who purchase and activate a One20 F-ELD before Sept. 1 will get an automatic upgrade to RoadsideMasters' Gold Level service. Also in September, One20 users at the Silver Level will have the option to opt into Gold coverage at a discounted rate.
Current One20 users can pre-register online for the new program by Saturday, July 15, for the roadside assistance service to activate on Aug. 1. Drivers who pre-register between July 16 and July 31 can activate their service on Aug. 15. Pre-registration for One20 users is available here or in the One20 app.
Once the service is active, registered drivers can call the number listed on the membership card they will receive, and RoadsideMasters will send them a text message, which allows them to geo-locate the driver for assistance.
Drivers who are already RoadsideMasters members will also gain access to One20 services such as free truck-safe navigation and the option to purchase a One20 F-ELD at a discounted price.
More on the One20 Roadside program can be found here.