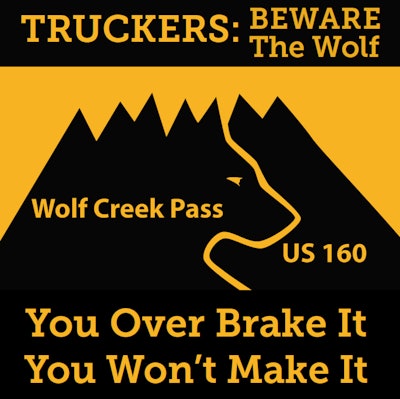 The Colorado Department of Transportation is urging truck drivers to "Beware the Wolf" and use caution when driving through mountain passes in the state, specifically U.S. Highway 160 at Wolf Creek Pass.
The agency says that even though weather conditions are mild during the summer, the road is still dangerous due to the terrain.
"The number of crashes over the years underscores the need to slow down over this mountain pass," says Bill Pentek, CDOT Deputy Superintendent of Maintenance. "From 2011 to 2015, there have been 49 semi-truck crashes on the west side of Wolf Creek Pass. Two of those crashes resulted in needless fatalities."
CDOT says a majority of the crashes that occurred on this highway were at the switchback curve near the Wolf Creek scenic lookout area. This switchback is a hairpin curve that is six-and-a-half miles downhill from the summit.
The department reminds truckers that the speed limit for westbound traffic on U.S. 160 coming downhill from the summit is 25 miles per hour for trucks. This stretch of highway has a 7 percent downhill grade and is more than eight miles from the summit to the base of the pass.
Other passes CDOT is warning truckers about include U.S. 550 Red Mountain, Molas and Coal Bank Passes; Colorado Highway 145 Lizard Head Pass; Colorado 17 La Manga-Cumbres Pass; and U.S. 50 Monarch Pass.
The agency offers the following tips for truckers descending any of these passes:
Check brakes before descending the pass
Maintain a low speed in low gear, and use your flashers
Don't ride your brakes
Use Jake brakes if necessary
Keep brakes cool by pulling into brake stations or onto the shoulder if there is a safe place to do so.
Finally, CDOT encourages truckers to use runaway ramps if control is lost.
"If a truck driver has lost control, there should never be a hesitation to use the runaway ramps," Pentek says. "If a truck's brakes fail due to overheating or excessive use going downhill, runaway ramps are the only way the truck will be able to stop. There may be monetary consequences for using a runaway ramp – potential fees associated with a tow company's removal of the truck from the ramp or perhaps even a law enforcement fine. But not using the ramp can result in the ultimate cost: the irreplaceable life of a driver or the lives of those they share the road with."
A map of Wolf Creek Pass on U.S. 160 can be seen below: