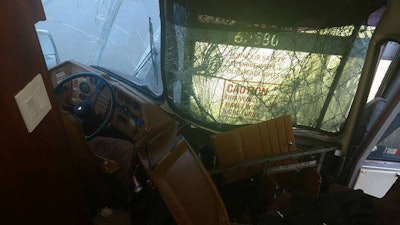 Around 8 a.m. Sunday, Aug. 6, driver-songwriter Tony Justice's rented tour bus hit the back of a tractor-trailer on eastbound I-40 in Oklahoma, near the Arkansas state line. Justice tells Overdrive that no one was hurt in the incident, and lauds the driver of the truck the bus hit for a steady hand as the bus became attached to rear of the trailer.
Justice and company were fresh off a Saturday night performance in Oklahoma City at the American Truck Show Circuit event at the state fairgrounds. After the show, they began to head back east toward their Tennessee home base. Storms hit in the early morning, and Justice parked the bus for the night to ride out the storm. When the bus driver started fresh the next morning, Justice himself was asleep as things went awry.
A car had hydroplaned out of control ahead of the accident, Justice says, and came to rest in the left lane. Conditions were rainy, such that visibility was low. With the four-wheeler and an emergency vehicle in the left lane, the tractor-trailer ahead slowed quickly when the disabled vehicles, slightly obscured on the other side of a hill, came into view. The bus driver responded by moving to the left lane, Justice says, whereupon he too finally saw the disabled vehicles and moved back behind the quickly slowing tractor-trailer.
"He just couldn't get it slowed down enough," Justice says, and hit the trailer. "Our bus and [the truck driver's] trailer became hooked to one another. Cool as a cucumber, the [truck's] driver, keeping his head, slowly towed us off the road onto the shoulder and to a normal stop."