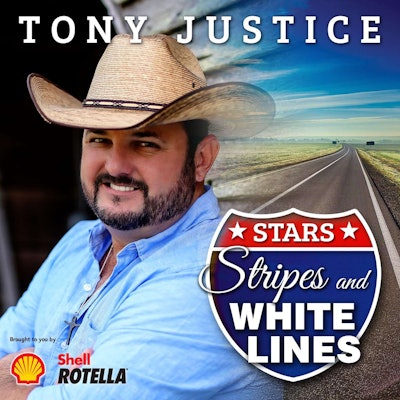 The time has come, drivers. Tony Justice's new record, "Stars, Stripes and White Lines," is out and on its way to the racks first at TA Petro locations, other truck stops following, for an official June 30 release. As he notes in the Overdrive Radio podcast you can hear up top and in the player below, after a couple months for the physical CD release, a digital release follows in September.
Justice worked with multiple songwriters, including some gems from his long collaborative efforts with Kim Williams (who passed last year) and three-time producer Jeff Silvey, likewise sponsoring song presenters for the record — catch them all in the back-cover image above, but take particular note of what might be my favorite track on the album, No. 10.
The anthemic "Live, Laugh, Love and Dance" was written in part with Michael Suson's "Truckers for Truckers" depression support group in mind in terms of its theme. But sharing a co-write with Tony Justice there is his wife, Misty. Anybody who's met Tony over the years has probably met Misty, too — an inseparable pair in life and in Tony's growing music career, the two joined forces in songwriting for the first time on this track. The results are just awesome.
Misty talks a bit about the process in the podcast, too, in which Tony also lays out some of his rationale for stepping into the ELD mandate fray on the side of the opposition, as I wrote about when the "ELD or me" Facebook group launched last month.