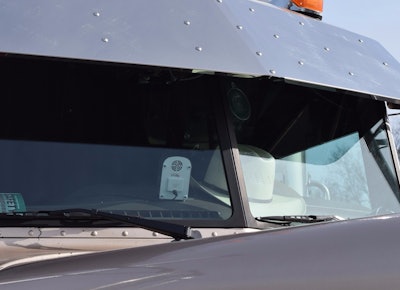 I've talked to driver-songwriter Tony Justice about the subject of electronic logging devices several times in the past — he won't have one in his truck is the long and short of it. So it was no surprise when Ohio-based owner-operator Scott Reed sent word he'd been talking to Justice and many others about plans hatched in the wake of Reed's latest trip earlier this month to D.C. to knock on doors in the Capitol and talk to those who'd listen.
Justice, as you see from the image above, started the public Facebook group "ELD OR ME" with a quite simple tagline: "Time to unite." He's in a unique position to be able to facilitate the uniting, of course, having perhaps the most recognizable face (and voice) around the trucking world these days.
"I threw it up a week ago just to see what would happen," Justice said this morning, hauling into Tennessee on I-24 from Kentucky, after SuperRigs farther west this weekend. "My idea was to see if we could get some truckers to show their support for the people who are fighting this for the right reason," chiefly the Owner-Operator Independent Drivers Association and owner-operator Reed's and other individual efforts out there. "And if I could use my voice to fire up a base," he adds, then so be it — "something to see how I did so I didn't have to say what-if after they throw a computer in my truck."
Justice and Reed, among others, have been discussing the first and second weeks of October for a demonstration outside the White House to go on for an as-yet-undetermined amount of time "to try to get Trump's attention," Reed says.
When I ran with him last month for two days around the state of Ohio, he got a call-back from the office of Senator Tom Cotton of Arkansas, scheduling a meeting with legislative aides there for May 10 (while we sat at a dock in Deschler picking the last load of the two-day run, bound for Whirlpool). He made that meeting now two weeks back, plus stopped in to talk to a staffer with the Senate Commerce Subcommittee for Surface Transportation and Merchant Marine Infrastructure, Safety and Security. There, Reed came to the conclusion that without direct Congressional or executive branch intervention (likely both, and with plenty constituent encouragement), ELDs were most likely here to stay, at least from the point of view of most in government. The subcommittee staffer "made it clear to me that the e-log's not going anywhere – 'there's too much invested in it' were their words," Reed says. "My reply to that was, 'I don't care how much is invested – people's safety and livelihoods need to be taken into account.'"
The experience spurred him to plan for the worst, hence the organizing around those dates as yet undetermined in early October.
"I've got about 40 guys on my end who are committed" to being in attendance, Reed says, a number growing by the day. Justice says he's focused to date on connecting with the right people on social media to network to spread the word about what's happening.
Reed got a call recently from owner-operator Jerry Novak, also organizer of the Brookville, Ohio, truck show (catch Wendy's story about its inaugural event last year). Novak and company extended an invitation to Reed to attend, and the owner-operator says he'll be set up in a booth to "spread the word." Justice is performing at the Take Pride Truck Show — full show scheduled for June 9-10 — and says he's likely to invite Reed to the stage to share as well.
"I really feel like Scott's truly passionate about this, but I think it's going to take more than just him" to get anywhere near a revocation of the mandate, Justice says. And while his is not the kind of schedule that leaves a lot of time for organizing, he adds, "I've got time to go to Washington for a few days. And I have time to get people behind me."