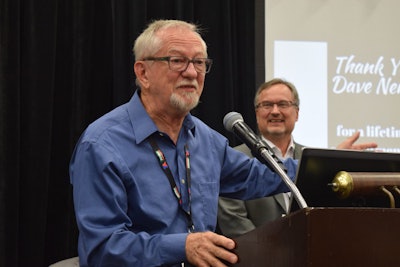 Dave Nemo, who's been behind the mic on trucking-focused radio programs for nearly 30 years, was awarded Friday at the Great American Trucking Show three awards in a surprise ceremony held by several groups.
Nemo received a Lifetime Achievement award from an informal group of drivers, as well as a large plaque from TA/Petro and a crystal microphone from the St. Christopher's Fund. He was also given a free vacation to Hawaii.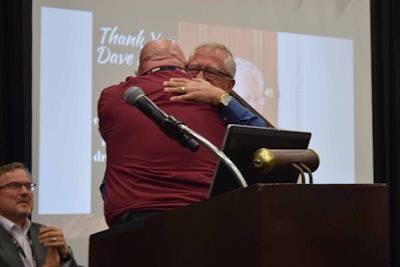 "I've been speaking on the radio for 27 years, but right now I'm speechless," said an emotional Nemo upon accepting the surprise honors. "I feel so privileged to be with you guys on the radio every night and every day."
Nemo started on AM radio in the 1980s. Currently, he hosts a daily show on Sirius XM's Road Dog Trucking station.
Todd Spencer, executive vice president of the Owner-Operator Independent Drivers Association, said during the ceremony that when drivers listen to Nemo's program "always know there was a friend on the other side."