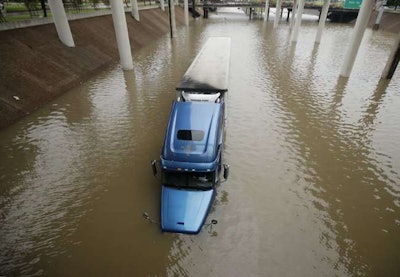 As Hurricane Harvey continues to dump massive amounts of rainfall in southeast Texas, views from the storm are dire, with flooding submerging highways and prompting widescale rescue efforts across affected areas. The storm has prompted some regulatory waivers for truck operators, as well as closed major interstates. See Overdrive's coverage of waivers and highway closures at this link.
One story making the rounds on social media and mainstream media outlets is that of a trucker, identified as only Robert in reports from the scene, who was trapped in his truck as floodwaters rose around the vehicle and within his cab, coming dangerously close to drowning him. A local news crew from Houston's KHOU was there filming, and reporter Brandi Smith was able to flag down local authorities in a rescue boat to help save the trucker's life.
Below is video of that rescue, along with photos and videos posted to Twitter and Facebook of the historic flooding, trucks caught in the floodwaters, submerged highways and a video of a convoy of relief loads heading to the impacted areas. See the list of truck stop closures reported by major chains in the tweets embedded below.
Houston crippled by Harvey's deluge as millions face days of flooding (via @christocarbone) https://t.co/cv9U80S6W3 pic.twitter.com/vPqyNb4ijz

— Fox News (@FoxNews) August 28, 2017
U.S. Army Corps of Engineers to release water from two Houston-area dams: statement https://t.co/HnRKumV7Gw pic.twitter.com/psq1D8N9GF

— Reuters Top News (@Reuters) August 28, 2017
We spotted this H-E-B disaster relief convoy staged just outside Goliad, TX. NBC DFW #Harvey

Posted by Brian Curtis NBC5 on Sunday, August 27, 2017
VIDEO: I-10 at Yale, The Heights, Houston (residential area on the north side of downtown.)

(???? – @euzkera ) #Harvey pic.twitter.com/LwHrJLM0ZI

— Matt Rodewald FOX 10 (@Matt_Fox10) August 27, 2017
#Harvey #harvey2017 heights Houston. I-10 and studemont. Riding this out. Scary stuff pic.twitter.com/vT95Wuq7zS

— Pepper Vintage (@peppervintagebp) August 27, 2017
In the west part of Katy area. That's I-10 going west. @statesman #Harvey #Houston pic.twitter.com/In9AJEPUxq

— Sebastian Herrera (@SebasAHerrera) August 28, 2017
The "ground zero" truck at @IN_Task_Force_1 is loaded and ready with supplies to take to Texas. #Harvey pic.twitter.com/VY5WOQg9ia

— Shannon Houser (@Shannon_Houser) August 28, 2017