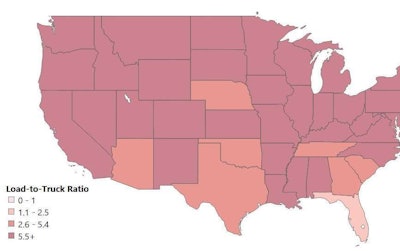 Spot market volumes hit an all-time high on the top 100 van lanes last week. And at $1.94 per mile, the national van rate is the highest it's been in two and a half years – 16 cents higher than the overall August average.
Van load counts grew by 52 percent out of the Atlanta region, a combination of emergency freight heading into Florida, plus pent-up demand from shipments delayed by Hurricane Irma. Volumes also rose significantly in Charlotte, N.C., but rates came back down in both markets following the big spikes seen the week preceding.
Hot markets: Every major van market got a boost to outbound rates in September. Among major markets, prices rose the most out of Columbus, Ohio, and Buffalo, N.Y., which created some triangular-route opportunities that we'll get into more below. In general, south and eastbound lanes paid more.
Not so hot: Dallas and Houston rates continued to level off, but outbound rates are still higher than they were before Hurricane Harvey hit, almost five weeks ago now.
Hot reefer markets: Apple season is driving rates up around Philadelphia and Grand Rapids, Mich. Among the eastern states, Pennsylvania is the second-biggest apple shipper, and forecasts for this year are for a nice increase over last year's harvests. The lane from Philly to Columbus was already up 42 cents to an average of $2.40 per mile last week.
But the big surprise early this week? The number one market for reefer load posts is Albuquerque, N.M.
Not so hot: Potato harvests have led to some high rates out of Green Bay, Wis., but prices dropped quite a bit on some high-volume lanes last week. Out West, the lane from Sacramento, Calif., to Denver lost 33 cents at $2.08 per mile, mostly due to stronger prices and volume out of Colorado.
Last week's spot update: