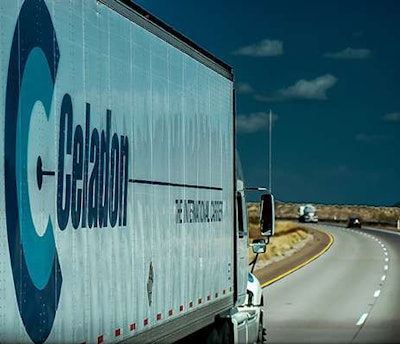 Celadon Group, one of the country's largest trucking companies, has notified its shareholders that it is under investigation by the Securities and Exchange Commission, the body that governs publicly traded companies' financial affairs. The company was notified in May that it was at risk of being delisted from the New York Stock Exchange for not filing required forms with the NYSE for its fiscal 2016.
The Indianapolis-based company operates nearly 5,500 trucks. In an Oct. 2 notice to shareholders, Celadon noted it had been issued a subpoena by the SEC "and is in the process of producing documents pursuant to the subpoena."
The company said it could not comment further on the investigation.
Celadon says its independent auditor, BKD LLP, filed the missing forms with the NYSE on time but subsequently withdrew them over questions about their accuracy, resulting in the company no longer meeting the exchange's listing requirements. The withdrawn forms, 10-K and 10-Q forms from recent quarters, are intended to inform investors and potential investors with quarterly financial data.
The SEC's investigation into Celadon could pertain to questions about unreported equipment sales.
According to an April 25 letter from BKD to Celadon's board, BKD auditors discovered "additional information [about] transactions involving revenue equipment held for sale. This prompted DKB to deem its NYSE filings as unreliable and withdraw the forms. Celadon spokesperson Joe Weigel confirmed in May the transactions in question involved the sale and transfer of company equipment, but, he says, Celadon gave auditors "a significant amount of information" about the equipment sales and the revenue derived from those sales.
BKD withdrew the forms days after notifying Celadon about the new information, which put Celadon out of compliance with NYSE rules. Celadon notified the NYSE May 1 of its noncompliance, and the NYSE notified Celadon the next day that it was at risk of being delisted.
The company also said Oct. 2 it is facing lawsuits regarding accounting matters that relate to, "among other things, the company's previously issued financial statements."
Monday's announcement comes amid other financial uncertainty for the company, which reported a $10 million operating loss in the second quarter of its fiscal 2017. Celadon announced in May a leadership change, appointing Jon Russell as its new president and Doug Schmidt as its new head of truckload operations.
Last month, Celadon shuttered its driving school operations, and earlier this year it announced it was restructuring its truckload operations to rely less on independent contractors and more on company drivers as a means to drive profitability.
In its notice about the SEC investigation, Celadon also said it is implementing a "new strategic plan…including strengthening [its] capital structure, exiting or downsizing unprofitable or non-core business, restoring the historical operating practices and profitability of our irregular route truckload business and augmenting our senior management team."
Celadon says it has secured a $22.6 million loan to pay down debts and increase cash flow.