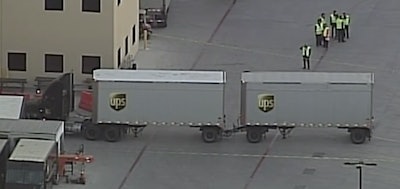 A UPS truck driver was reportedly run over and killed by his own truck Tuesday at a UPS facility in San Antonio, Texas.
According to the San Antonio Express-News, Terry Lee Sawyer, 59, had gotten out of his cab around 5:30 a.m. while attempting to connect his truck to a double-box trailer.
When the truck began moving, Sawyer reportedly attempted to stop it and was run over and killed. He had been found pinned under one of the tires, foxsanantonio.com reported.
Police said that the truck's emergency brake had not been set.