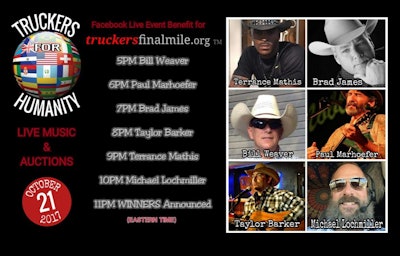 On the Truckers for Humanity Facebook page the evening of October 21, six trucker/singer-songwriters will perform live to benefit TruckersFinalMile.org. The list of performers includes a bevy of names that will be familiar to Overdrive readers from our Trucker Talent Search annual singer-songwriter competition at the Great American Trucking Show, among them flatbedder Michael Lochmiller, the one and only "Jake Brake Junkey" Terrance Mathis (of Rockford, Ill.), driver and participant in the first talent search Brad James, Arkansas country-rock hazmat hauler Bill Weaver and trucking's folks hero (if it's got one) Paul Marhoefer.
Rounding things out (catch the full schedule of performances in the flyer image at the top of this post) is driver-songwriter Taylor Barker.
Truckers for Humanity is a project of a group of owner-operators including George Parker, husband to Overdrive contributing blogger Wendy Parker. The effort follows a similar fund drive to benefit recovery efforts after Hurricane Harvey's devastation in Southeast Texas — the success of that Truckers for Texas initiative spurred on organizers to expand the effort.
You can tune in beginning at 5 p.m. October 21 at this link. The donate button on the FB page goes directly to TFM, organizers note.
You'll find some of the participants' music in our "Music to Truck By" playlist, which follows.