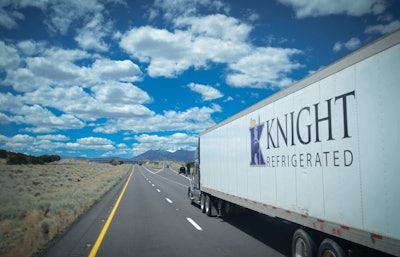 Knight-Swift Holdings, the new parent company formed via the merger of truckload giants Knight Transportation and Swift Transportation, reported this week a sizable decline in per-share earnings compared to the same quarter last year.
However, the company noted in its report to shareholders that "comparisons to prior periods are not meaningful," as the quarterly results include "significant merger-related costs," as well as only 22 days of financial results for Swift.
In its first quarterly report since the merger, Knight-Swift reported to shareholders this week a diluted earnings per share of 4 cents in the quarter ending September 30, down from Knight's (pre-merger) 29 cents a share from the same quarter in 2016.
Dave Jackson, president and CEO of the new company, said the decline was due to $12.3 million in expenditures related to "legal and professional fees related to the merger with Swift." Jackson was the president and CEO of Knight before the two companies merged this year.
In sum, the company reported $521.6 million in revenue in the quarter and net income of $25.5 million. Jackson noted the company saw a 4.6 percent year-over-year increase in the company's revenue per loaded mile. "Strong freight demand is beginning to impact both the contract market and customer expectations for the 2018 bid season," he said.
"Our primary near-term focus areas include delivering on our synergy goals and positioning the Knight and Swift brands for success in the rapidly changing freight and driver markets."