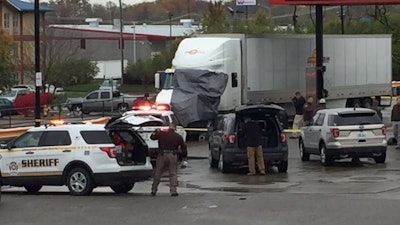 Video released from the shooting investigation at Pilot East this morning. The victim can be seen from the blue semi-truck. pic.twitter.com/OqkGAR0FxW

— Boone County Sheriff (@BooneSheriffKY) November 7, 2017
A dispute between truckers allegedly over a spot in the fuel pump line at a Walton, Ky., truck stop left one truck driver with a gunshot wound in his arm and another dead after an apparent suicide. The incident occurred at approximately 9:38 a.m. on Tuesday, Nov. 7.
The Boone County (Ky.) Sheriff's Office reported that surveillance video from the Pilot truck stop shows one driver, identified as 44-year-old Ronald Melvin Jr., pull his truck up to a fuel pump, get out of his truck and approach another trucker, identified as 60-year-old Jeffrey Maggard, that pulled up a few seconds later. Melvin then runs for cover, allegedly after being shot, according to the report.
BCSO said witnesses heard words between the two men before shots rang out. After shooting Melvin, BCSO reported Maggard turned the gun on himself and committed suicide. Melvin, of Morrow, Ohio, was transported to University Medical Center in Cincinnati with a gunshot wound to his arm. His current condition is unknown.
"Initial indicators are that the two were involved in some sort of a road rage incident in the lot," the report states.
One dead, one injured after dispute leads to shooting at a Boone County truck stop:https://t.co/z71eqQsaEk pic.twitter.com/jDQ9Pg0a3N

— Local 12/WKRC-TV (@Local12) November 7, 2017